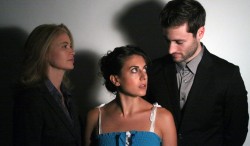 On Aug. 10, playwright and Drake University Professor Emeritus of Theatre Arts William S.E. Coleman will experience his off-Broadway debut at the age of 87.
His play, "A Future Imperfect," will be performed at The Celebration of Whimsy Theatre in New York City as part of the highly selective New York International Fringe Festival. This historic theatre was the former home of the legendary avant-garde Living Theatre.
Not only is Coleman the oldest playwright to be part of the festival, his play is being directed by Drake alumna Allison Moody. Daniel Neiden, another Drake alumnus and former student of Coleman's, is also involved with the production. Neiden joined Moody and producer Justin Colon as an advisor for the production.
"What greater pleasure can a teacher have than to work as a colleague with former students?," asks Coleman. "I often dreamed of having an off-Broadway production for one of my full-length plays, but never in my wildest imaginings did I think that one of my best directing and acting students, Allison Moody, would be guiding my play to its opening night."
Allison Moody, originally from Kansas City, is an actor, director, teacher, and writer in New York City. Moody graduated from Drake with a B.F.A. in theatre performance in 2000.
"Doc (Coleman) and I have a common language, which has made the collaboration really wonderful," says Moody. "He knows the training I've had, so he can trust me. It feels very comfortable. It's a truly unique collaboration."
Coleman taught at Drake University as a professor of theatre arts from 1966 to 2000, and served as chair of the department from 1966 to 1975. During his time at Drake, he taught theatre history, film studies, and courses in directing and acting. Additionally, Coleman created the Drake Playwrights Acting Company, which has produced numerous successful playwrights and screenwriters throughout the years.
"A Future Imperfect," will be performed five times throughout the festival, with its first performance on Saturday, August 10 at 7 p.m. The other performances will be held:
• Tuesday, August 13 at 7:30 p.m.
• Friday, August 16 at 4:30 p.m.
• Saturday, August 17 at 5:30 p.m.
• Wednesday, August 21 at 2 p.m.
Coleman and his team hope the exposure at the festival will lead to more performances in the future.
Visit www.afutureimperfect.com/ for more information.
William S.E. Coleman – Iowa Scriptwriters Alliance
###