Don't miss it! Drake University's Drake Day at the Iowa State Fair will be held on Saturday, Aug. 10. Join us for our annual all-day celebration at the fair, receive free giveaways, show your Bulldog pride, and learn what it means to "Do Something Drake!"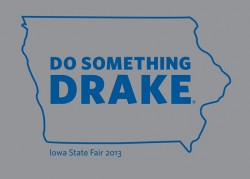 Do Something Drake!
Since Drake's founding in 1881, the University and its graduates have helped move Iowa forward and played a part in making the state a great place to live, work, and play. At Drake Day, learn how Drake students are shining above the rest and continuing to positively influence Iowa and the world.
Drake's tent will be located on Rock Island Avenue across from Pella Plaza. Giveaways include Drake water bottles, string backpacks, fans, and special buttons for alumni. Temporary Drake tattoos will also be available.
Did Something Drake?
A special section of our tent on Rock Island Avenue is for our alumni. If you've already done something Drake, stop by and participate in our alumni competition as well as network and share stories with other Drake alumni.
Go Bulldogs!
Also new this year for Drake Day is the Drake Athletics booth in the William C. Knapp Varied Industries Building. Drake fans will have the opportunity to meet student-athletes and coaches, receive autographs, and take photos with the 2011 and 2012 Pioneer Football League championship trophies. Giveaways in the Varied Industry building — August 10 only — include socks and beverage holders. Varied Industries visitors throughout the fair can grab a limited edition athletics poster, fall game schedule cards, and coupons for Drake events.
Schedule of appearances (August 10):
9-11 AM
Men's Basketball
Track and Field
Cheerleaders
Porterhouse, the official live mascot of Drake University*
Huckleberry, winner of the 2013 Beautiful Bulldog Competition at Drake University*
     *Splitting their time between Varied Industries and the Drake tent on Rock Island Ave.

11-1 PM
Women's Basketball
Track and Field
Spike, official Drake mascot
1-3 PM
Drake Athletics Director Sandy Hatfield Clubb
Cheerleaders
3-5 PM
Track and Field/Drake Relays
Cheerleaders
Spike
5-7 PM
Spike
7-9 PM
Volleyball
For more information, about Drake Day at the Iowa State Fair, contact Jarad Bernstein at 515-271-3119 or jarad.bernstein@drake.edu.