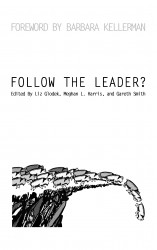 The doctoral cohort studying educational leadership at Drake University's School of Education (SOE) wrote a comprehensive leadership book that is now available for purchase worldwide. Barbara Kellerman, Harvard professor and noted leadership expert wrote the foreword for the book. The cohort will celebrate with a book launch and party this Sunday, Aug. 11 at 3 p.m. in the Turner Jazz Center at Drake University.
"This cohort faced a nearly impossible task. They were charged with writing, editing, designing, and publishing a book—from start to finish, cover-to-cover—in only 29 days," says Tom Buckmiller, assistant professor of education and instructor for the advanced leadership course.
The book, "Follow the Leader?," is a collection of ideas, thoughts, experiences, research, and personal narratives from the next generation of leaders—the students in the class. Erin Lain, assistant dean of academic services in the Drake Law School and SOE student, wrote about the role emotional intelligence plays in leading.
"The book launch will be a celebration of all our hard work," say Lain. "And, an opportunity for our friends, family and the community to learn about the book's creation, as well as some of the concepts and topics driving the content."
The book will be available for purchase at the launch party. The authors will be present to sign copies.
For more information, visit www.drakefollowtheleader.blogspot.com or contact Erin Lain at erin.lain@drake.edu or 515-271-2040.
Visit www.amazon.com/Follow-the-Leader to order the book.