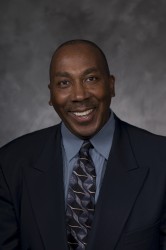 The U.S.-U.K. Fulbright Commission recently awarded Sentwali Bakari, dean of students at Drake University, a Fulbright International Education Administrators (IEA) Award. As a result, Bakari will participate in a three-week program in the United Kingdom August 3-23, 2013 where he will travel to various colleges and universities to meet with top U.S. and U.K. administrators. Bakari was selected among hundreds of administrators from across the U.S.
The IEA program aims to enhance U.S. administrators' ability to serve international students, promote multiculturalism and diversity, and encourage the study abroad experience.
Throughout the program, Bakari will have the opportunity to gain in-depth knowledge about the U.K.'s higher education system as well as establish networks with U.S. and international colleagues.
"It's an honor to receive this award and I'm looking forward to meeting with the other selected administrators," says Bakari. "I hope to walk away with ideas for not only enhancing the Student Life division, but ideas for advancing Drake's mission of promoting a stronger, global, and multicultural understanding among Drake students and the Des Moines community."
Upon his return, Bakari plans to share best practices of U.K's higher education system, particularly those that relate to the student affairs and student services administration. Additionally, he hopes the trip will create opportunities to interact with students from the U.K. and develop possible partnerships for staff and student exchange programs.
For more information, contact Sentwali Bakari at sentwali.bakari@drake.edu or 515-271-2835.