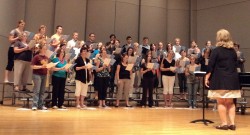 Over 40 adults participated in a two-week intensive course as part of the Summer Music Institute, which ended July 19 on the Drake campus. The Kodály Certification Course, led by Thomas Sletto, assistant professor of music education, is endorsed by the National Organization of American Kodály Educators. The Kodály Method, also referred to as the Kodály Concept, is an approach to music education developed in Hungary during the mid-twentieth century by Zoltán Kodály.
Participants read text assignments, sang in a choral ensemble, completed analysis assignments, and taught lessons they constructed during the course to their peers.
"Leading the Kodály Certification Course this year was rewarding, with the largest enrollment we've ever had. In fact, it is one of the largest courses in the country this summer," says Sletto. "The participants were hard-working, talented, and tenacious working from 8 a.m. to 5 p.m. every day. We ended with a thrilling choral concert in Sheslow auditorium conducted by Barbara Sletto, artistic conductor of the Heartland Youth Choir."
Sletto has been teaching music education courses at Drake since fall 2008. He completed his master's in music education from the University of St. Thomas in St. Paul, Minn., and earned a Kodály Mastery Certificate from Hamline University, also in St. Paul, Minn.
The Kodály Certification Course is multi-leveled. During the training at Drake, 29 participants completed Level I, 11 completed Level II, and four completed Level III. After completing Level II, participants receive a mastery certificate in the Kodaly Approach to Teaching Music. Guest lecturers included Thomas Michalek from Nebraska and Barbara Sletto of Des Moines.
For more information, contact Thomas Sletto at thomas.sletto@drake.edu or 515-271-3195.