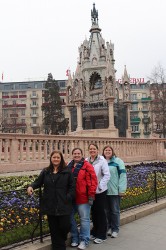 Traveling to Europe today may be easier than in years past, but not every experience is equal. Drake University graduate students have access to an experience that is well beyond the reach of the average globetrotter.
The College of Business and Public Administration course, Comparative Management and Policy Analysis in a Global Context, takes students on an 18-day exploration of Europe, with exclusive meetings and professional presentations designed to advance their careers in public administration and nonprofit management. Organizers say it is the only course of its kind in the world, combining a deep in-class curriculum and travel experiences that have brought students to 140 cities in the program's 12-year lifespan.
This year's incarnation focused on collaborative governance and social entrepreneurship in six European countries. True to the spirit of the class, Ken Meyer, professor of public administration and Thomas F. Sheehan Distinguished Professor, secured unprecedented access to some of Europe's foremost subject experts. These included meetings with leaders at three of the most prestigious universities in Europe: Said Business School at the University of Oxford, INSEAD business school in France, and University of Glamorgan in Wales.
"These are places your average tourist can drive by and look through the gates," Meyer says. "But they wouldn't let you through the door."
Students—who are enrolled in public administration, business administration, communication leadership, or accounting programs—also visited the World Economic Forum headquarters in Geneva, where they heard a presentation from the Schwab Foundation for Social Entrepreneurship. Representatives from that group discussed its global efforts to recognize organizations that further environmental and social sustainability.
"All the presenters we worked with provided their contact information and encouraged us to follow up for long-term discussion and professional development," says Aaron Scott, a Drake University M.P.A. student and targeted case manager for Easter Seals Iowa.
The Schwab Foundation discussion was particularly meaningful for Ashlee Bloyer, a full-time M.P.A student who barely set foot back in the U.S. before applying her new knowledge. The week after she returned from Europe, Bloyer had an interview with Teach for America, a nonprofit organization that enlists recent college graduates to teach in under-resourced, urban and rural public schools.
"The Schwab Foundation presentation helped me to truly understand Teach for America's history and mission and gave me a strong basis for expressing how I could help them tackle social problems and create meaningful social change," Bloyer says.
Even the more traditional sightseeing elements of the class trip took on additional meaning for students as they shared in the diverse perspectives and experiences of their peers.
"As an urban planner it was a dream come true to experience the rich architectural, artistic, and cultural history of places like Windsor Castle, Stonehenge, Neuschwannstein Castle in Germany, and the more recent marvels of St. Peter's Basilica and the Sistine Chapel," says Erik Lundy, a Drake M.P.A. alumnus and senior city planner for the City of Des Moines. "It was even more valuable that I could hear the perspectives of my colleagues, which varied based on cultural or racial background, gender, and occupation. There is no way of replicating that experience."
Other notable sights included the Churchill War Rooms, Parliament, and The Changing of the Guard; religious ceremonies at Westminster Abbey and Notre Dame Cathedral; and a visit to the Louvre and several other museums. Students were in Vatican City on Easter for a public appearance by Pope Francis.
In short, students say it was an once-in-a-lifetime experience that will not be rivaled, perhaps, until next year's trip—which will explore "Cities of Tomorrow." The trip tentatively kicks off in Sweden and ends in Rome, with myriad surprises in between.
If you're interested in the trip, former voyagers have a word of advice: Just go.
"I went on the trip in 2012 and we were always moving," says Drake M.P.A. student Maurice Eckstein, who works at a home mortgage company in central Iowa. "We went to 15 cities. The hotels were nice everywhere along the way. The bus we used was comfortable. It was absolutely worth the money, and I recommend it to everyone."