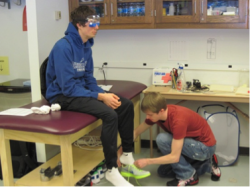 Running shoes are big business, and choosing a model from the seemingly unlimited number of options can be a daunting task to the uninformed buyer. The look, cost, and feel of the shoe are all factors that play into purchasing decisions.
Drake University Arts & Sciences students working in the Exercise Science & Sports Medicine Laboratory are conducting several research projects, including a study about how different running shoes perform and how people perceive differences between shoes. The laboratory was founded within the biology department in 2008 because students had expressed a need for a space to conduct research.
Stephen Slade, a senior biology student, and Joel Greenya, a junior biology student, lead the project, examining how people perceive shoe weight.
In their experiment, subjects are fitted with five shoes from the same brand name and asked to rank them in terms of weight and comfort without looking at or holding the shoes until later. They have found that subjects are about 30 percent accurate when judging the weight of the shoes on their feet but more than 75 percent accurate when holding them in their hands.
"The study has suggested when consumers base purchasing decisions on shoe weight, it is by how the shoes feel in their hands rather than when actually wearing them," Slade says.
Slade believes his experiences in the lab have helped prepare him for his future career in medicine. He has been accepted to the M.D. program at the University Iowa and will begin classes next fall.
Other Drake students recently had the opportunity to present research projects of their own to peers and faculty at DUCURS, which was held on April 11, 2013. The Drake Undergraduate Science Collaborative Institute hosts the annual conference, which features oral and poster presentations, and top presenters receive awards and recognition. Visit
www.drake.edu/ducurs
for more information.
Slade had the opportunity to give an oral presentation on his research in April 2012 at the Drake University Conference on Undergraduate Research Series (DUCURS), and Greenya presented his portion of the research at the 2013 DUCURS as well as the 125th meeting of the Iowa Academy of Sciences on April 19. Slade and Greenya developed relationships with mentors while conducting their research—David Senchina, associate professor of biology, and Chris Kliethermes, assistant professor of psychology, helped the students complete their research.
"My undergraduate research at Drake has provided the opportunity to explore my scientific interests through collaboration with professors and allowed me to make decisions regarding experimental procedures," Slade says.
Senchina notes that the experiences working in the laboratory are win-win situations for all students. Seniors such as Slade get help with data collection, and younger students—most of who are not science majors—have an opportunity to experience genuine research first-hand.