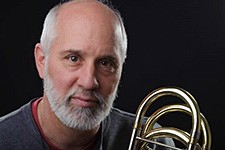 Gerry Pagano, bass trombonist in the St. Louis Symphony Orchestra, will perform a guest recital on April 22. This recital, which is free and open to the public, will begin at 7:30 p.m. in the Performing Arts Hall of the Harmon Fine Arts Center, 2505 Carpenter Ave.
In addition to the guest recital, Pagano will offer a master class on Sunday, April 21 at 7:30 p.m. in the Turner Jazz Center. The master class serves as an opportunity for people to learn from Pagano as well as ask questions in a relaxed and interactive environment. Pagano will work one-on-one with low brass students on various etudes, solos and playing fundamentals. No registration or fee is required, and anyone is welcome to attend.
Pagano earned a Bachelor of Music and Master of Music from Juilliard School of Music in New York City, and he has played bass trombone in the St. Louis Symphony Orchestra since 1995. He has performed with the Tucson Symphony, the San Francisco Ballet, San Francisco Opera, and the San Francisco Symphony. Additionally, Pagano has released two solo CDs, and the second one includes work with the St. Louis Low Brass Collective. He is also on a CD released by the St. Louis Symphony.
For more information, contact Grady McGrannahan at 515-271-2976 or grady.mcgrannahan@drake.edu.