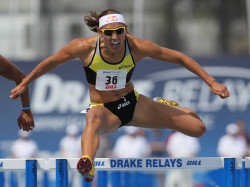 The Blue Oval at Drake Stadium has hosted countless spectacular races over the Drake Relays' century-long history, but this year's competition is poised to rival them all.
The field of elite competitors for the 2013 Drake Relays, presented by Hy-Vee, Inc., has expanded to include more Olympians and hometown heroes. There are now 25 medalists from the London Games scheduled to compete in the Relays this year, among a field of 130 elite competitors.
Also joining the Relays, which run April 26–28, is Olympian and Des Moines native Lolo Jones, a perpetual fan favorite. Jones' inclusion in the 100-meter hurdle field gives the event an added boost as it already features 2012 silver and bronze medalists Dawn Harper and Katie Wells, respectively.
Of the 12 London Games rematches scheduled for the Relays, seven will be part of Hy-Vee Night at the Relays. These Friday evening events on the Blue Oval will conclude with an explosive fireworks display.
Fans have been particularly enthusiastic about the Relays this year, and tickets are going fast. "We're on our way to selling out [of tickets] on Friday night for the first time ever in Relays history," Brian Brown, the Franklin "Pitch" Johnson director of the Drake Relays, told reporters at a press conference April 3.
America's Athletic Classic remains a premier event for many of the nation's finest high school and collegiate athletes. Hy-Vee announced a new addition to collegiate competition with the Hy-Vee Cup, to be awarded to the men's and women's programs that accumulate the most points in selected relay events.
Of course, the Relays are far more than a track-and-field meet. Six official Drake University alumni reunions draw hundreds of Drake grads back to Des Moines. Visit www.alumni.drake.edu to RSVP for reunions including School of Journalism and Mass Communication; Environmental Science and Policy; and 10-, 20-, 25-, and 40-year reunions.
Members of the community can get in on the action, too. A field of 50 canines will strut their stuff in the Beautiful Bulldog Contest on Monday, April 22. The top three-ranked male and female pole-vaulters in the world will launch high above the crowds at Jordan Creek Town Center for Pole Vault in the Mall on Wednesday, April 24.
Downtown Street Painting unites Des Moines businesses and community organizations for a fun and artistic event on Court Avenue. The Grand Blue Mile, a community street run presented by Wellmark, and the Hy-Vee Road Races at the Drake Relays are also held during Drake Relays week. Tickets for the Grand Blue Mile and the Hy-Vee Road Races at the Drake Relays can be purchased on those events' websites.
These events and others set the stage for a Drake Relays that truly is "Stronger Than Ever," and that may indeed be the best yet.