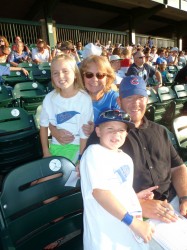 Spring has finally sprung and Bulldogs across the country are excited for year two of Drake Me Out to the Ball Game, which launches Tuesday, April 23, in Tampa, Fla. These family friendly alumni events were hugely popular in their first year and volunteer coordinators expect high attendance will continue.
Drake Me Out to the Ball Game is one of the most popular alumni events in Drake's history. The idea originated with the programming committee of the National Alumni Board, which wanted to create alumni events that would interest people of all ages.
Volunteer coordinator for the Omaha event, Shawna Kasner-Hannam, says the opportunity to network with other Drake alumni and the giveaways were highlights from last year, and inexpensive tickets were an added bonus. At this year's event in Omaha on June 28, alumni will again have the opportunity to gather before the game and network. Seats are reserved together and ticket prices are typically reduced for the group. Everyone is encouraged to wear Drake gear to show off their Bulldog pride.
For more information about Drake Me Out to the Ball Game and a list of cities participating, visit www.alumni.drake.edu or contact Ashley Nichols, assistant director of alumni relations, at 515-271-1947 or email ashley.nichols@drake.edu.