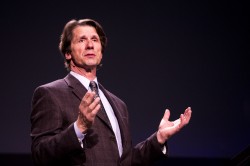 The 30th Martin Bucksbaum Lecture at Drake University began this month with an emotional appeal about the effects of global climate change, continued with a scientific basis for global warming, and ended with applause—and much discussion of the next Bucksbaum lecturer, an astrophysicist with a rock-star image.
The emotion
James Balog, a renowned photographer for such publications as National Geographic, Audubon, and The New Yorker, and founder of the Earth Vision Trust project that documents climate change through time-lapse glacier photography, delivered the Bucksbaum Lecture in front of more than 2,000 people at the Knapp Center on April 3.
A large digital screen projected Balog's still and time-lapse photography, which depicts receding glaciers, the soon-to-be-released bubbles of ancient greenhouse gases trapped in polar ice, and other tangible signs of climate change.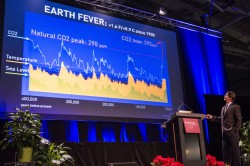 "Nature isn't natural anymore," Balog told the assembled crowd in making his case that humans contribute to climate change. "We are well beyond the realm of natural variation."
The science
Balog, who holds a graduate degree in geomorphology, showed graphs he said demonstrated a rise in global weather-related disasters in the past three decades and that tracked the rising concentration of greenhouse gases in the atmosphere.
Balog's work with Earth Vision Trust on a project called the Extreme Ice Survey has photographically documented years of evidence meant to complement the science behind climate change. He said the science leaves no room for skepticism and that climate change should be a uniting social issue rather than a political football.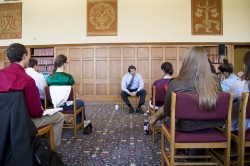 In a pre-lecture meeting with a small group of Drake environmental science students, he said global warming was "created 100 percent by burning fossil fuels." He reinforced that message during the Knapp Center event, calling on attendees to do whatever they can to reverse the negative effects of climate change.
"Climate change does not belong in partisan camps," he told the crowd. "If you breathe air, eat food, grow food, drink water, or pay taxes, climate change makes a difference for you."
The fall lecturer—Neil deGrasse Tyson
Astrophysicist Neil deGrasse Tyson will deliver the 31st Bucksbaum Lecture at Drake University at 7 p.m. Tuesday, October 29, 2013. News of the lecture already has students and alumni swooning over the opportunity to see Tyson, who boasts massive popular appeal and boundless passion for space and the universe.
Drake has published a tongue-in-cheek article, "11 Reasons why Neil deGrasse Tyson is the Greatest (Ever)," for the benefit of anyone who is unfamiliar with Tyson. Preview: He has his own Internet meme and often appears on late-night television programs like The Colbert Report and The Daily Show with John Stewart.
Visit www.drake.edu/bucksbaum for more information.