For many students, receiving an education at Drake University would not be possible if it weren't for the institution's robust scholarship and financial aid program. Drake remains affordable and accessible thanks to the generous commitment of its donors.
For the past four years, the annual Scholarship Luncheon has given both donors and scholarship beneficiaries the opportunity to come together and celebrate the scholarships and the students who receive them.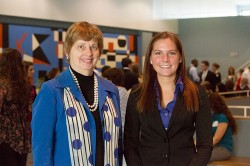 "It's a powerful and heartwarming event for both the donor and the student," says John Smith, vice president for alumni and development. "It's a meaningful opportunity for our students to say thank you and for our donors to see the impact of their support."
The luncheon, which was held on Nov. 9, was the biggest yet with more than 170 attendees—but that's not the only reason this year's event was special. Keynote speaker Lou Ann Simpson, BN'66, LW'68, department chair and professor of business law at Drake, was presented with a distinctlyDrake campaign proclamation from the University's board of trustees. Not only is Simpson a committed alumna, avid Drake athletics fan, professor, mentor, and campus leader, she has also given back to Drake for 29 consecutive years.
The inspiration for the Simpson Scholarship Fund came from a former, non-traditional business law student, according to Simpson. The student was a successful businessman but decided to return to school for a degree. At the time, Simpson told him the fund should be in his name, but he said no.
"It wasn't about 'look what I did,' " Simpson says. "That wasn't what he was trying to do. He was trying to give other students an opportunity to receive a Drake education also. He wanted it in the name of a faculty member who was as committed to the Drake education as he was."
Simpson says the student inspired her, so each year she contributes a modest amount, which has allowed the fund to grow over time. Today, the benefit is significant.
"We have so many students who could use financial assistance in order to come to Drake. They are outstanding men and women, good students, hard working, ethical, and they make me proud to be a part of Drake. It seemed only fitting to try to help them," Simpson says.
More than 100 scholarships ranging in size from $1,250 to full-tuition are available to Drake students today. To learn how you can make a difference like Simpson, contact John Smith at 515-271-2969 or email
john.smith@drake.edu
.
Laura McGuire, a business major with a concentration in business law, was this year's recipient of the Simpson Scholarship Fund. McGuire grew up in a family with seven siblings and says she was able to attend Drake because of the assistance from multiple scholarships. McGuire says Simpson, who is her adviser and business law professor, is a great leader and professor known for being hands-on and continually going above and beyond. McGuire had the opportunity to speak at the luncheon and express her gratitude.
"I speak on behalf of myself and other Drake students when I say that this type of kindness and devotion is what sets Drake apart from other schools," McGuire said. "We are truly grateful."