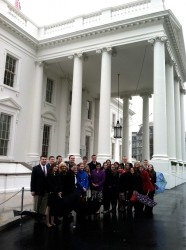 From robot programming in Des Moines and leadership in the Bahamas to advertising in Poland, 680 students completed a global range of courses during Drake University's first ever January-Term (J-Term).
J-Term, is a three-week period during January when students can take a three-credit class at an accelerated pace. The rigorous schedule allows for focused, in-depth learning opportunities.
"I would absolutely encourage everyone to take a J-Term [class], particularly one that gets you out of a traditional classroom setting," says Drew Kaufman, a junior politics major. "J-Term is a really nice time to engage in experiential learning."
More than 40 J-Term courses were offered to Drake students during January 2013. Seven courses were held primarily off-campus, including travel seminars in Washington D.C., Poland, the Bahamas, and Ghana.
Kaufman took the "Inside Washington: The Presidential Inauguration" course which included an 11-day trip to Washington D.C. The class of 25 students visited historic landmarks, networked with local Drake alumni, bowled in the White House, and attended the 2013 Presidential Inauguration.
"Being able to live and learn in D.C. for a week and a half was an extraordinary opportunity," Kaufman says. "We got to experience a lot of things that wouldn't have been possible in a classroom, like the inauguration."
Back in Des Moines, students rehearsed, choreographed, and performed a production of Chicago; learned letterpress printing techniques; and studied winter avian ecology, among many other unusual and interesting subjects.
For students who do not participate in a Drake J-Term class, the three weeks are simply an extension of winter break. However, students can use this time for other activities such as work, internships, or research.
Rebecca Rabideaux, a junior biochemistry, cell, and molecular biology major, used J-Term to study abroad. She took a conservatory-style theater class at Gaiety School of Acting-National Theatre School of Ireland in Dublin.
"My major makes it extremely difficult for me to go abroad for a whole semester," Rabideaux says. "This was really the only time I could fit it into my schedule and I wouldn't have been able to have such a life-changing experience without J-Term."
Visit the Drake website to find more information about J-Term and courses offered in 2014.
— By Nicole Scilingo, class of 2014