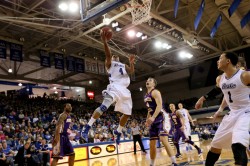 From monumental upsets to half-court buzzer beaters to prestigious honors, this is shaping up to be an exciting year for the Drake men's basketball team. Here are a few season highlights as of February 22.
An amazing half-court swish punctuated Drake's overtime victory over Indiana State University on Feb. 2. Junior Gary Ricks put the Bulldogs ahead by two points at halftime with his jump shot from the Knapp Center half-court line. The shot, launched from just above the ear of Drake's on-court bulldog logo, was featured on ESPN's "Top 10 Plays" list that evening—and luckily, devoted alumnus Jonathan Azu, BN'99, captured the clip on YouTube.
Fans rushed the Knapp Center court on Feb. 13 as the Bulldogs celebrated a thrilling victory over the No. 17-ranked Creighton Bluejays. Alumni joined the celebration from 13 National Game Watch locations across the United States. The match-up was broadcast live on Fox Sports Midwest.
Senior Jordan Clarke scored a career-high 20 points with 15 rebounds during Drake's come-from-behind overtime victory against Bradley on February 20. The Bulldogs won the game 92-84.
255 Drake student-athletes achieved a grade-point average of 3.0 or higher during the fall semester and were honored at halftime of the men's basketball conference matchup against Illinois State University on February 6.
The Bulldogs are experiencing a close season, with a record of 12 wins and 15 losses as of February 22. The team has averaged a total of 72.6 points scored per game.
— By Paige Zidek, class of 2014