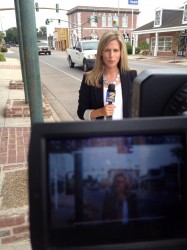 Chatting with celebrities about the Super Bowl on the set of Good Morning America; interviewing attendees at this year's Mardi Gras festivities—it's all in a day's work for Brittany Weiss, a Drake journalism alumna who attributes her successful career to her ambition and alma mater.
Weiss, JO'09, has spent the past six months as a reporter at WBRZ News 2, an ABC-affiliated news station in Baton Rouge, La. At News 2, Weiss shoots footage for stories, interviews sources, and reports her findings in news broadcasts. "There's a lot of breaking news, and it's very exciting," she says.
Working in television has been Weiss' goal since she was a little girl. This dream brought her from the suburbs of Chicago to Drake, where she double majored in broadcast news and political science. At Drake, Weiss gained experience on both sides of the camera, taking broadcast classes and developing a reel of her work.
Her career began with an internship at WLS-TV in Chicago. She also gained experience working with CBS New York during the 2008 election for the Iowa Caucuses and during the Democratic National Convention, working with Katie Couric on both occasions.
After graduation, Weiss landed a job in New York City as an online producer and editor for Popeater.com. She shot celebrity interviews and worked red carpet events, rubbing elbows with notable stars like Tina Fey, Brad Pitt, and Will Smith. But a merger took her career down a different path. Weiss left Popeater and moved to Greenville, Miss., where she became a lead reporter and anchor for WXVT and eventually relocated to Baton Rouge for her current role at WBRZ.
In her brief time working for the station, Weiss has already had the opportunity to function in several exciting environments, including on the set of Good Morning America and in the crowds of parade-goers during the Mardi Gras.
Weiss credits her Bulldog roots for the wealth of experiences she's had.
"Drake absolutely helped me get to where I am today," Weiss says. "Without my Drake education, I wouldn't have been able to get the internships I did—and later, the jobs. I didn't let anything get in my way, and now I'm living my dream."
— By Paige Zidek, class of 2014