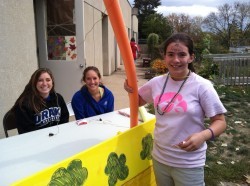 When first-year student Mario Rossi chose his First Year Seminar (FYS) this fall, he had something other than grades and credit hours in mind. He wanted to understand and help those with mental disorders, a cause near to his heart."My dad has a minor case of bipolar disorder," Rossi says. "I always wanted to gain a better understanding of the disorder and others around me who may have the same thing." Rossi and 17 other first-year students are enrolled in Exploring the Portrayal of Mental Illness and Disabilities in the Media. Taught by Anisa Fornoff, associate professor of pharmacy practice, the FYS aims to enhance understanding of the stigmas and misperceptions related to the treatment of individuals with disabilities and mental illnesses.
"I see mistreatment of individuals with mental illnesses too often in my work with patients," Fornoff says. "By educating these students, I hope to ignite a chain reaction of understanding."
Coursework includes readings about mental illnesses and reflective papers, but the biggest take-away for students comes in the form of service-learning projects.
This fall, the FYS students' primary project was a carnival held at Ruby Van Meter High School for its homecoming week. Ruby Van Meter, located less than one mile south of the Drake campus, serves students with special needs, aged 12-21.
The carnival featured a variety of games and activities, including a duck derby,cake walk, tattoos, face painting, and "Whip It," a game where students threw pies in Drake students' faces. Ruby Van Meter students happily participated in the activities and interacted with Drake students.
"The carnival was a really positive experience," says first-year student Elise Damman. "As much as it was a benefit for them to have us there, we were rewarded as well by seeing the students get excited for the carnival and their upcoming dance."
Rossi agrees: "We had the freedom to create the carnival ourselves, and we really had fun with the kids we've met at Ruby Van Meter this semester."
The class also volunteered at Ruby Van Meter during the semester, observing classes and working with the students. Drake students have assisted with gym classes, Walking Club, and lunchtime activities and have formed meaningful relationships with students as a result.
"Without this hands-on learning experience, we would not have been able to connect with the Ruby Van Meter students and really understand that individuals with disabilities are the same as you or me," Damman says. "Without a doubt, I would say that this FYS has helped me and the other students grow and evaluate the way we treat others."
For Rossi and his peers, the FYS experience has had a meaningful and positive effect on their lives.
"I've learned to be more open with others about who they are and who I am," he says. "It has definitely influenced the way I view individuals with illness and disability."
–By Paige Zidek, public relations major, class of 2014