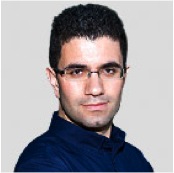 The Principal Financial Group Center for Global Citizenship will host a panel of experts addressing Iranian media, foreign policy, and human rights on Wednesday, Dec. 5, in Meredith Hall, Room 101, at 7 p.m. The event, which is co-sponsored by the Iowa International Center, is free and open to the public
The panel will feature Saeed Kamali Deghan, a newspaper correspondent who focuses on Iran, along with three Drake University faculty members: David Skidmore, professor of politics and international relations; Mahmoud Hamad, assistant professor of politics; and Ellen Pirro, adjunct professor of politics and international relations.
Kamali Dehghan is a foreign correspondent for the British daily newspaper, The Guardian. He was a co-producer of HBO's documentary, FOR NEDA, which won a Peabody Award and the 2010 Foreign Press Association's Best Documentary of the Year. FOR NEDA explores the story of Neda Agha-Soltan, whose 2009 death came to symbolize the struggles of the Iranian people. Kamali Dehghan also won the 2010 UK Journalist of the Year award for the film. He also has a strong interest in human rights and lesbian, gay, bisexual, and transgender issues, especially as they relate to Iran.
Skidmore, Hamad, and Pirro all teach in Drake's College of Arts and Sciences and will contribute their expertise on globalization, politics, and human rights in Iran to the panel discussion.
For more information on this panel event, contact David Skidmore at david.skidmore@drake.edu or 515-271-3843.