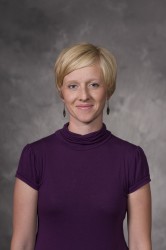 Annique Kiel, assistant director of Drake Administered Programs Abroad, was named the 2012 Honorary Fellow of the University of Wisconsin-Madison's Professional French Master's program (PFMP).
"I was very humbled to be named the 2012 Honorary Fellow for the PFMP," Kiel says. "The PFMP is a unique and innovative program, and to be recognized in this way is a real honor."
Kiel is a University of Wisconsin-Madison alumna, receiving her master's in French Studies with an emphasis in International Education in 2004. She remains active in the program's affairs by participating on the PFMP's External Advisory Board. She gives input in program development and serves as a mentor to current students. She also contributed a chapter to the program director's book, Post-Francophile: Stories from the Professional French Masters Program.
The PFMP honors one person annually. The title is a symbolic tribute to someone who has shown dedication to the program, and without whose efforts the program would have faced greater challenges. The PFMP is one of the few programs of its kind in the nation; most master programs in French are aimed at scholars wishing to become professors while PFMP focuses on those who want to use French in business and careers.
Kiel was honored at the External Advisory Board meeting in October.