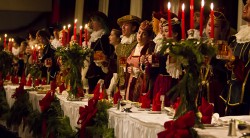 A Drake University holiday tradition returns this December: the Drake Madrigal Dinners. Join family and friends to experience the magic of this unique evening and enjoy our version of an Elizabethan Yuletide celebration.
Ring in the holiday season at one of two dinners: Dec. 1 at 7 p.m. or Dec. 2 at 5 p.m. Both events are held in Parents Hall in the Olmsted Center. Tickets are $50 per person and can be purchased through the Drake Fine Arts Box Office, 515-271-3841. Tickets are available through Nov. 20.
While enjoying music from the Drake Chamber Choir, witness the procession of the traditional boar's head, wassail bowl, and flaming fig pudding while you indulge in a meal fit for royalty. The menu includes Cornish game hen, garlic mashed potatoes, spinach salad, baked apple, scones, figgy pudding, wassail, and wine. Vegetarian meals are available.