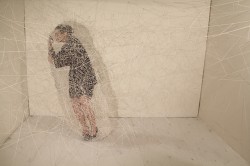 A new large-scale exhibition, "Projecting Identity," featuring work by groundbreaking and internationally-renowned video artists is set to open at Drake University's Anderson Gallery on Nov. 9.
The exhibition is a collaboration between Lenore Metrick-Chen, associate professor of art history and the exhibition's curator, and the Drake Curatorial Seminar students. It showcases videos based upon each artist's exploration of a distinctive construct of identity.
The exhibition provides the Des Moines community with a rare opportunity to see pioneering video work by MacArthur Award winner and artist Gary Hill and by Marina Abramovic. Hill's work in video has defined the media and inaugurated its use as a means to embody dialogues between language, image, and identity. Abramovic and Ulay's collaborations underscore the identity formed between individuals in situations of dire interdependence. Additionally, the exhibition includes exciting works by internationally renowned artists Viet Le, Cui Xuiwen, Miao Xiahchun, Nate Young, ManYee Lam, and Kate Gilmore.
Related Events and Public Programs 
Wednesday, Nov. 14, 7–8 p.m., Anderson Gallery: Artist Nate Young will discuss his work in the Anderson Gallery.
Thursday, Nov. 29, 11 a.m., Anderson Gallery: Carol Spaulding-Kruse, professor of English, will discuss 'identity' as a theme during an informal gallery walk.
All events are free and open to the public.
"Projecting Identity" opens with a reception on Friday, Nov. 9, from 5 to 7 p.m., and remains on view through Dec. 14. The reception is free and open to the public and will include a special screening of Microcosm, a digital 3D animation by Miao Xiaochun, an influential and controversial Chinese artist. Microcosm will be screened at 6 p.m. in the Turner Jazz Center after a short introduction by Metrick-Chen.
The Anderson Gallery was established in 1996 as a dedicated space for the exploration of contemporary art and design. Additionally, the gallery hosts curated exhibitions of historically significant work, as well as annual showcases of student work from the Department of Art and Design. The gallery is a nonprofit branch of the Department of Arts and Sciences at Drake University, on the first floor of the Harmon Fine Arts Center.
The Anderson Gallery is open six days a week: Tuesdays, Wednesdays, and Friday through Sunday, 12 to 4 p.m. with extended hours on Thursdays from 12 to 8 p.m.
Additional information is available by calling 515-271-1994 or by visiting www.artsci.drake.edu/andersongallery