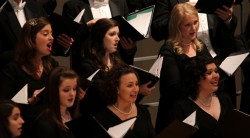 Drake University's four choruses will present a concert, "How Can I Keep from Singing?" on Nov. 18 at 3 p.m. in Sheslow Auditorium in Old Main. The Drake Choir, Chamber Choir, Drake Chorale, and the Drake University/Community Chorus will all perform at the event, which is free and open to the public. Linda Vanderpool will conduct the Drake Chorale, and Aimee Beckmann-Collier, professor of conducting, will lead the remaining three choruses.
"The program is highly varied, with music from the Renaissance and Baroque periods, as well as plenty of contemporary music and some spiritual and folk songs," Beckmann-Collier says. "The timbres and textures are enticing and the choirs will also collaborate with strings, oboe, and French horn."
More than 250 students participate in at least one of the choruses. The Drake Choir is Drake University's select touring ensemble and tours throughout the United States annually and internationally every four years. The Drake Choir has sung in Carnegie Hall on two occasions and has been featured on the conference program of the American Choral Directors Association North Central Division. At the concert, they will perform varied works by composers such as John Tebay and Lane Johnson.
Drake's Chamber Choir is a select ensemble of 29 singers drawn from the Drake Choir. The Chamber Choir is the featured group for the annual madrigal dinners presented during the Christmas season. Chosen by audition from among 90 choirs, the Chamber Choir performed for the conference of the American Choral Directors Association North Central Division conference in February 2012. The group will perform songs by John Bennet, Tomas Luis de Victoria, and Thomas Morley.
The Drake University/Community Chorus is an ensemble that provides members of the central Iowa musical community, as well as Drake students and staff, the opportunity to sing masterworks of the choral repertoire. Their performance will feature music such as "My Love Walks in Velvet" and "Go Where I Send Thee."
The Drake Chorale is a select women's ensemble of 30–36 singers. They frequently collaborate with guest conductors and other ensembles. The group will perform music by David Childs, Paul Basler, and Scott Farthing.
For more information, contact Beckmann-Collier at aimee.beckmann-collier@drake.edu or 515-271-2841.