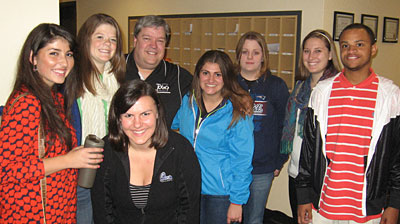 Newsradio 1040 WHO Program Director and morning co-host Van Harden told the Radio News class digital technology has brought the greatest change to the profession since he began his career at Perry, Iowa's, radio station.
Harden's media career has included stops in Tulsa radio and 10 years as mid-day host for KRNT-AM, Des Moines.
The 1973 Drake Radio-TV graduate recalled earlier days of trial-and-error splicing quarter-inch audio tape to complete a production. "We didn't have 'Undo' buttons" so a 30-second spot might require two hours to finish, he explained.
Among WHO's many honors have been at least 14 national Marconi awards from the National Association of Broadcasters. Harden has been twice recognized as "Personality of the Year" by the NAB.
"Still not a morning person," Harden rises at about 3:30. He and co-host Bonnie Lucas first open their mics at 4:59 each weekday morning. They finish at 9.
The class saw five radio stations and several production rooms that reside on the third floor of the Clear Channel building, 2141 Grand Ave.