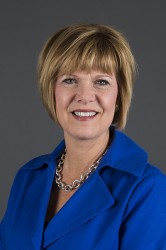 Drake University President David Maxwell, on behalf of the University, is pleased to announce the appointment of Shannon Cofield to the newly created position of senior counsel to the president for strategic partnerships, effective November 5, 2012.
Ms. Cofield will work collaboratively with Drake and Des Moines area leadership to enrich the symbiotic relationship between the University and its surrounding community.
"This is a collaborative position working with other campus constituents to strengthen our symbiotic relationship with Des Moines," says Drake University President David Maxwell. "Ms. Cofield will be working with members of the President's Cabinet, deans, directors, and other members of campus community to identify the specific ways in which this new position can be most supportive of their efforts and fulfillment of their goals. Similarly, she will be working with Des Moines leaders from all sectors to help ensure that Drake continues to contribute to the health and vitality of our community."
Ms. Cofield draws on a wealth of experience and professional connections, including those developed from eight years as president of the United Way of Central Iowa. That organization's fundraising revenues increased from $17.2 million to $25.5 million under her tenure from 2004–2011. During that time she also initiated a statewide public policy agenda with 15 other United Way organizations in Iowa.
Ms. Cofield's experiences as spokesperson, fundraiser, and advocate are among those that will benefit her in the new role at Drake University. She has an impressive track record of collaborative relationships with Greater Des Moines' business and political leadership, social service agencies, and non-governmental organizations.
"A multitude of truly excellent educational programs, resources, public lectures, athletic events, fine arts, and faculty expertise are Drake assets that I look forward to sharing with the community," says Cofield. "Developing strategic partnerships with businesses and community organizations will continue to elevate Drake as one of Des Moines' most treasured institutions. I look forward to working with Dr. Maxwell and multiple Drake stakeholders to engage key constituencies to advance the University and to fulfill its commitments to the community."
The decision to create this new position at Drake University is a result of an extensive strategic planning process by the University's board of trustees and hundreds of members of the campus community. The Drake University Strategic Plan 2013–2017, approved in October, includes a specific objective of strengthening Drake's relationship with the city of Des Moines and other external partners.
"Shannon's background and experience with Des Moines and the Des Moines community make her an ideal 'fit' for this important new position," says Larry Zimpleman, chairman, president and chief executive officer of the Principal Financial Group, and chairman of the Drake University Board of Trustees. "I look forward to working with Shannon and the entire Drake community to forge deeper partnerships with the Des Moines community."