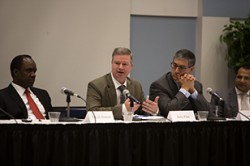 At Drake, workplace ethics is a vital part of classroom discussion. That conversation was elevated earlier this month when business professionals from the Des Moines area met and explored business ethics at the inaugural Herb and Karen Baum Symposium on Ethics and the Professions.
The event brought together leaders in business, education, and government to create a conversation about the importance of ethics, integrity, and transparency in organizations. Nearly 130 professionals attended the symposium, representing 35 different organizations in the Des Moines metro area.
Spanning two days, the symposium was comprised of more than 10 small group sessions, panels, and lectures. This not only provided a way for business leaders to connect, but also to discuss the ethical climate of the Des Moines community.
"When community leaders and organizations gather around an idea, it can really begin to take form and change who we are," said Chris Coleman, president of the Better Business Bureau of Des Moines, in a session that addressed ethics-based partnerships.
Featured Speakers:
Christopher Littlefield, president and CEO of Aviva USA
Jerry Flint, vice president, biotech affairs and regulatory affairs at DuPont Pioneer
Hon. Patrick Bitature, chairman of Simba Group
Suku Radia, president and CEO of Bankers Trust
W. Douglas Parker, chairman, president, and CEO of US Airways Group
Matthew L. Davidson, president of the Institute for Excellence and Ethics
Eugene T. Meyer, president, Greater Des Moines Partnership
The symposium also aimed to discuss issues that shape organizational culture in the Des Moines professional world. Sessions focused on topics like why workplace ethics are essential and how to spark ethical discussions in corporations, the classroom, and beyond. Character Counts in Iowa and the Greater Omaha Alliance for Business Ethics were two organizations recognized as setting "gold standards" for ethics-based partnerships between businesses and the community.
Preceding the symposium was a reception, where former Iowa Gov. Robert Ray, BN'52, LW'54, received the 2012 Herb and Karen Baum Ethics Award. The award is presented to an individual who has made substantial contributions to ethics awareness and practice in the community.
An endowment from Herb M. Baum, BN '54, and his wife Karen made the event possible. Herb is the retired chairman, president, and CEO of Dial Corporation and is a member of the Drake University Board of Trustees. Their $2 million gift funds a faculty chair in Ethics and the Professions, who will be active in ethics research and the teaching and promotion of organizational ethics.
Baum, author of The Transparent Leader: How to Build a Great Company Though Straight Talk, Openness, and Accountability has been promoting ethics in business long before the topic made headlines. At one point in his career, Baum traveled to more than 25 colleges and universities across the nation where he addressed audiences on the topic of exorbitant executive pay—while he was CEO at Dial.
That passion was evident at the Symposium, which was important for bringing the topic of ethical business to the forefront in the community.
"The symposium met the objectives we had in mind for this first attempt. We had a surprising number of representatives from the business community discuss how Drake could serve as a catalyst for inspiring ethics and values in our community and organizations," says Garry Frank, professor of public administration and the Herb and Karen Baum Chair in Ethics and the Professions. "This will help lay the foundation upon which to build the symposium into one with national recognition."
-By Paige Zidek, public relations major, class of 2014