STEM: it's a hot acronym across the country right now, and Drake is at the forefront in Iowa of ensuring future teachers are prepared to teach the fields that make up STEM—science, technology, engineering, and mathematics. Recently, the University gained a partner in Des Moines Area Community College (DMACC). Together, the two schools will offer a new STEM certificate, the first of its kind in Iowa.
"DMACC has been a natural partner with Drake, and we are pleased to expand that relationship," says Drake University President David Maxwell.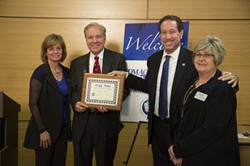 The STEM certificate will be available to elementary education majors who wish to expand their knowledge in STEM areas. Through the partnership, students who start at DMACC can begin courses in the STEM certificate then transfer to Drake to complete the program. Students who do not enroll at DMACC first, but solely attend Drake, can still receive the certificate.
"For every 100 high school students who express an interest in a STEM career, only five are employed in the field five years later," said Maxwell at the announcement of the certificate program on Oct. 8. "That's a scary statistic. We need to increase the number of inspiring teachers who can show students just how much fun it can be to immerse yourself in STEM fields."
Participating students must take 19 credit hours in electives relating to STEM. Additionally, they must attend two seminars on infusing math and science activities into the classroom. These seminars will incorporate partner businesses as well as teachers who are finding unique ways to integrate STEM into their curriculum.
As part of the program, Drake's School of Education will create two new courses: Methods of Engineering and Technological Design and Inquiry-Based Science and Safety, which will emphasize discovery as part of a student's process of learning in STEM fields. Those courses will be offered starting in fall 2013.
"Children have an innate sense of curiosity that we want to use in the classroom," says Eunice Merideth, associate dean of the School of Education and the Ellis and Nelle Levitt Distinguished Professor of Education. "We want to make sure they connect what they already know with something new. This makes the lesson more meaningful and easier to retain."
The certificate program is part of Drake's work as a regional STEM hub. Earlier this year, Iowa Gov. Terry Branstad named Drake one of six such centers in the state. Drake committed to capitalizing on existing relationships with outside organizations to create a strong STEM advisory council, which will reach out to others to lead a concentrated effort in the region.
Drake hopes this first significant partnership with DMACC will mean big things for the region and the state. While the STEM certificate is not considered an endorsement, like the math and science education endorsements Drake offers, Merideth considers the initiative to a pilot program for possible statewide efforts in the future. And with projects like this, officials are hopeful that Iowa will soon be at the head of the class in the country for STEM education.
-By Alyssa Cashman