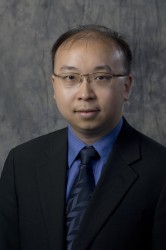 Peter K. Yu, Kern Family Chair in Intellectual Property Law at Drake Law School, spoke on a panel with two key U.S. treaty negotiators on the international intellectual property lawmaking process. The panel was held during The New Battleground in International Intellectual Property Protection: SOPA, ACTA, TPP, and Beyond symposium at Loyola Law School in Los Angeles on Sept. 21.
Joining Yu on the panel were:
Justin Hughes, senior advisor to the Under Secretary of Commerce for Intellectual Property and the head of the U.S. delegation negotiating the Beijing Treaty on Audiovisual Performances of the World Intellectual Property Organization
Probir Mehta, deputy assistant United States trade representative for intellectual property and innovation and the lead intellectual property negotiator for the Trans-Pacific Partnership Agreement.
In front of a standing-room-only audience, Yu expressed concerns about the secretive nature of the negotiations concerning the recently adopted Anti-Counterfeiting Trade Agreement (ACTA) and the still under negotiation Trans-Pacific Partnership Agreement (TPP). He also criticized the use of a "country club" approach to international norm setting to circumvent the multilateral intellectual property and trading systems.
Yu is the founding director of the Drake Intellectual Property Law Center, teaching classes on intellectual property law. He has been a keen observer of the intellectual property treaty negotiations between the United States and its trading partners. His most recent article on ACTA, TPP, and the highly controversial SOPA/PIPA legislation, "The Alphabet Soup of Transborder Intellectual Property Enforcement," was published in the Drake Law Review. His other articles on the topic were available at the SMU Law Review and The WIPO Journal.
Born and raised in Hong Kong, Yu is a leading expert in international intellectual property and communications law. He currently serves as the general editor of the peer-reviewed WIPO Journal, published by the World Intellectual Property Organization. An award-winning teacher and a prolific scholar, he has delivered lectures and presentations in more than 25 countries. His scholarly publications have appeared in Arabic, Chinese, English, French, Japanese, Persian, Portuguese, Spanish, and Vietnamese.
Under his leadership, the Drake Intellectual Property Law Center has served as a leading international hub for research and education in the intellectual property field. In the past four years, U.S. News and World Report magazine has ranked the center consistently among the top 25 intellectual property law programs in the United States and one of the top five programs in the Midwest.