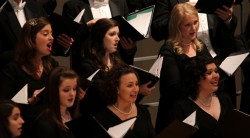 The Drake Choir, Drake Chamber Choir, and Drake Chorale will perform their first concert of the semester on Sunday, Oct. 7. The performance will be at 3 p.m. in Sheslow Auditorium in Old Main and is free and open to the public.
The concert will include selections from the Liebeslieder Waltzes by Brahms; Mozart's Gloria from Coronation Mass (with chamber orchestra); and pieces by Spanish, French, and American contemporary composers. It will conclude with two pieces from Kirke Mechem's John Brown, which traces the life of the famous abolitionist. Napoleon Douglas, a Drake junior, will be the baritone soloist in the final chorus.
"The concert is an exciting mix of contemporary pieces as well as scintillating historical music," says Aimee Beckmann-Collier, conductor of the Drake Choir and Drake Chamber Choir. Linda Vanderpool, adjunct assistant professor of music, will conduct the Drake Chorale.
For this semester's entire Drake Fine Arts calendar, click here. For more information about the concert, contact Aimee Beckmann-Collier at 515-271-2841 or aimee.beckmann-collier@drake.edu