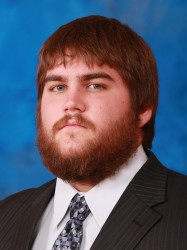 Zach Bosch, a senior at Drake and offensive lineman for the Bulldogs football team, has been named to the 2012 Allstate American Football Coaches Association (AFCA) Good Works Team. The team honors student-athletes from around the country who are dedicated to volunteerism and have had a positive impact on their community.
Bosch was one of just 11 student-athletes selected from the combined Football Champion Subdivision, Division II, Division III, and NAIA classifications, which consists of more than 5,000 players.
"It's great to be recognized, but when I started getting involved in the community, I never thought about something like this," Bosch says. "It's just what we do at Drake. Growing up, I was always taught to give back to people. For me, community service is the most simple and the easiest way to give back to others."
Bosch has participated in nearly every service project the Drake football team has taken on, but his biggest accomplishment has been his involvement with the Veterans Affairs hospital in Des Moines. He began a program where he and his teammates regularly visit ill veterans at the facility—many of whom rarely receive other visitors—to provide comfort, support, and camaraderie to those that have served their country.
"This is, in my opinion, one of the most significant awards a college football player can receive," head coach Chris Creighton says. "It is a phenomenal achievement and he is very deserving. I'm so proud of him and the AFCA for honoring him for what I believe is a richly earned award."
Bosch's other community service work includes:
Boys & Girls Clubs: Drake's student-athletes have established a consistent program of visits to the local Boys & Girls Club branches and implemented both a reading program to improve literacy rates and a mentor program for youth.
Des Moines Public Schools Reading Program: Bosch and his teammates have developed and maintained a program in which student-athletes visit several Des Moines-area elementary schools every Friday during the season to read to children. The program is designed to develop consistency and familiarity with the visits and to encourage elementary students to embrace reading and improve their skills through the time spent together with books.
Traveling Vietnam Memorial Wall: Bosch helped to make sure the traveling Vietnam Memorial Wall exhibit was properly disassembled and packed to assist with the success of the program and to share it with more people.
Thanksgiving Meal: Bosch volunteered his time and talents to help with a Thanksgiving meal for military families with husbands and fathers serving overseas.
Meals From the Heartland: Drake's football players joined other Drake student-athletes to help package food items each year in January to aid hunger relief around the world. Together they spend one day measuring and packing pre-packaged food allotments that will feed those in need.
Blank Children's Hospital: Bosch and his teammates visit with children at Des Moines' children's hospital to provide companionship and encouragement to children suffering from a variety of illnesses.
This is the second straight year a Drake football player has been named to the team; Stoy Hall was one of the honorees in 2011.
Bosch is now eligible to become a Good Works Team Captain, which is based on a popular vote. To cast your vote for Bosch, click here.