Jeff Shawd, JO'81, GR'83, was the first member of his family to attend Drake University. He seems to have started a trend. Both his siblings attended Drake and his son, Andrew, is now a junior double majoring in accounting and finance at the University. He has high hopes that his younger son, Matthew, will attend Drake in a few years.
Clearly, Jeff's love for Drake is now a family affair. The Drake University National Parents Association Board of Directors recognized that fact by recently naming Jeff, his wife Lynnette, and two sons the 2012 Drake Family of the Year.
Each spring, nominations are accepted from faculty, staff, students, and administrators to recognize Drake families for their support toward the success of their student(s) and contributions to the Drake community through advocacy and participation. A committee of the National Parents Association Board of Directors reviews the nominations and selects a family to be honored during the Parents and Family Weekend activities each fall, scheduled for Sept. 21–23 this year.
"This award is an important public celebration of the many ways parents and families support the opportunities provided to our Drake students," says Melissa Sturm-Smith, associate provost for academic excellence and student success. "Without the time, talent, and treasure they contribute, our community could not create such exceptional experiences."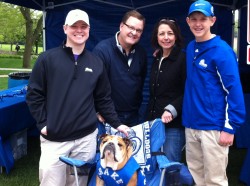 The Shawds are dedicated and active Bulldogs. Andrew is past president of the Drake Investment Club and is a member of Drake Tae Kwon Do Club, Delta Sigma Pi business fraternity, and Sigma Alpha Epsilon social fraternity.
Jeff was also part of Sigma Alpha Epsilon and continues to be involved as an alumnus. During his time at Drake, Jeff was a four-year member of the band program and still makes the trip down from the Shawds' home in Eden Prairie, Minn., to play trumpet with the Bulldog Brass at home basketball games.
"I've really been able to keep up with my personal passion for music through Drake," Jeff says. "That's a big part of what has made my involvement with the University so special."
Jeff's brother, Michael Shawd, JO'86, was one of the nominators for the Shawd family.
"Jeff and Lynnette are role models for parent and alumni engagement in Drake," Michael wrote in his nomination of the family. "They are actively engaged in Drake in ways that support their son's continued success, and have also forged unique and meaningful ways to contribute their talents and resources to the benefit of the University."
Lynette is a senior manager in information systems at General Mills and Jeff is vice president of marketing for General Electric. Jeff put those skills to use when he taught a marketing class at Drake, in which students helped to promote the new Turner Jazz Center. Both Lynnette and Jeff are also active in recruiting students for the University.
"Attending Drake was such a pivotal point in my own development," Jeff says. "Being able to experience Drake as a parent and give back has been extremely gratifying."