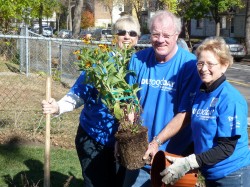 The Bulldog spirit will be spread coast-to-coast through service on DU Good Day. The second annual service day, on Sept. 29, 2012, will bring alumni and their friends and families together to volunteer in their communities. Alumni organizers in 14 cities coordinate the service projects, which range from packing meals at food banks to cleaning rivers.
Building on a service tradition
"DU Good Day combines two of my favorite things—volunteering and Drake," says Rachel Bruns, AS'08, JO'08, GR'10.
At Drake, Bruns was active in the 10,000 Hours Show and was a service chair for Order of Omega, a Greek leadership honor society, and Alpha Phi, a social sorority. She wanted to continue giving back to her community after graduation, so she became involved in DU Good Day.
"Service had a big impact in my learning and development as an undergraduate student," Bruns says.
After a successful first DU Good Day, Bruns is organizing this year's event for Milwaukee-area alumni. Volunteers will help out at Milwaukee Riverkeeper by cleaning the Kinnickinnic River.
"I'm looking forward to meeting new Drake alumni," Bruns says. "It was fun last year to do a service project together and learn the role and effect Drake has had in so many people's lives."
To make a difference in your community on DU Good Day 2012 visit www.alumni.drake.edu/dugoodday. Alumni will conduct service projects in the following cities and areas: central Iowa, Chicago, Denver, Kansas City, Milwaukee, Minneapolis-St. Paul, Nashville, Omaha, Phoenix, the Quad Cities, southern California, St. Louis, and Washington D.C.
Volunteering in the heartland
Tory Thaemert, JO'05, wanted to stay involved in Drake activities after graduation. When she moved to Kansas City a few years after graduation, she joined the Kansas City Regional Advisory Board, an alumni organization that reaches out to fellow Drake graduates through programming. Thaemert helps organize events for alumni living in the area.
"My goal is to get Kansas City alumni as excited as I am about being involved and helping the community," she says.
Thaemert, a DU Good Day veteran, is the event coordinator for the Kansas City DU Good Day. Volunteers will return to the nonprofit Harvesters: the Community Food Network for a second year. Alumni volunteers will prepare, organize, and package donated food items to be distributed to Kansas City-area residents in need.
"DU Good Day brings Drake's mission full circle: alumni get together as responsible global citizens to collaborate on a project to help the community and to better their personal and professional lives," Thaemert says.
As an undergraduate, Thaemert assisted with various community and campus service projects. Post graduation, she worked at Drake and became more engaged in the Des Moines community, volunteering at the Adult Literacy Center.
"This is exactly what Drake prepares us for," Thaemert says. "Plus, it's fun and each volunteer leaves feeling as if he or she made an impact."