Every year, Drake University sends nearly 300 students to countries all over the world. They not only get a chance to earn credit hours, but also expand their cultural knowledge and become true global citizens by experiencing lifestyles completely different than their own.
Jen Hogan, associate director of education abroad at Drake, helps each student determine the program best matched to his or her unique interests. She utilizes students who are study abroad veterans to reach out to individuals interested in international study.
Hogan also corresponds with students during their time abroad and is readily available to help students and answer their questions. Upon their return to Drake, Hogan helps them integrate what they learned abroad with life at Drake.
Study abroad experiences aren't limited to spring and fall semesters; several students and faculty spent time in foreign nations this summer as well.
An alternative approach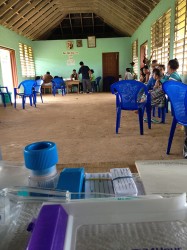 Jameson Groot, a fourth-year pharmacy student, completed a five-week pharmacy rotation in Belize this summer. He chose to go to Belize for one of his eight rotations for a two reasons: to experience a foreign health care system and to live in a culture with few similarities to his own.
"I was able to help a great clinic that serves people in need who may not get health care other than the care we are able to provide," Groot says. "This gave me an opportunity to look at a health care system that is different than ours and meet other students and professionals from around the world who are able to talk about different health care systems."
Although studying abroad in developing countries may not be as popular yet, Groot greatly values this experience and what he learned from living among disadvantaged people.
"It gave me an opportunity to experience a different culture and live in a different environment than what I am used to," Groot says. "Everyone was very friendly and happy even with the little they had access to."
With limited resources, Groot sometimes had to think about using alternatives that may not typically be used in the United States. He says the knowledge he gained from those experiences will help him in future rotations.
"I had a patient with Fibromyalgia who had been using a commonly prescribed medication for nerve pain, Gabapentin," Groot says. "She was not getting good results even with higher doses, and we had few alternatives that were commonly used for nerve pain. We decided to use Amitriptyline, a medication used most commonly for depression, as an alternative. It would probably be a fourth-line option in the U.S., but for us it was basically our only alternative."
Groot says he is especially thankful Drake is mindful of students' tight schedules and is willing to work with students to give them the study abroad experience they want, while still graduating on time.
"It has definitely been the highlight of my time at Drake, and I am extremely happy to have this opportunity that I probably would not have had if I attended another university or pharmacy school," Groot says.
"Abroad Junkie"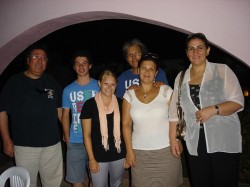 Lindsay Peters, a senior international relations, history, and Spanish triple major, spent her summer in Tunisia. A veteran of Drake's annual Egypt trip a few years ago, Peters calls herself an "abroad junkie." She chose to study in Tunisia because she couldn't resist the opportunity to experience another country's unique culture.
"I think my experience in Tunisia has given me an open mind," Peters says. "I have encountered near-disasters, countless surprises, and gained invaluable experiences."
Peters says her time at Drake helped prepare for her time in Tunisia and also developed her skills for dealing with stressful situations.
"Drake helped me prepare for a multitude of situations through the amount of responsibility I have gained during the past three years," Peters says. "Many professors and colleagues prepared me through personal experiences on how to remain calm and to not stress about every little thing that goes wrong. If I did, I wouldn't love traveling as much as I do."
Faculty abroad
Even Drake professors take advantage of the opportunity to go abroad. David Skidmore, professor of politics and international relations, took part in a study seminar to Egypt—focused on Egyptian history, Islam, and contemporary politics—led by Mahmoud Hamad, assistant professor of politics.
The seminar included 39 students from all different majors; they swam in the Red Sea and camped in the White Desert. They visited numerous cities, including Cairo and Alexandria, visited historically relevant sites, and visited with leaders in the areas of politics, activism, journalism, and religion.
Skidmore says this traveling experience was unlike any other he had before, specifically because the trip coincided with the first round of Egypt's presidential elections.
"I have traveled and lived in many parts of Latin America and Asia, but this was my first trip to the Middle East," Skidmore says. "It was a privilege to be present as Egyptians debated their political choices. I learned a great deal about Egypt's current political and economic circumstances that I can pass along through my courses and talks to the community."
It is no surprise that students and faculty alike give similar advice to students who have not yet studied abroad: take a chance, get out of your comfort zone, and do something you usually would not do.