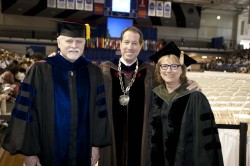 Two more Drake University professors joined the ranks of the Madelyn Levitt awards winners in May. Linda Krypel, former professor of clinical sciences, and Patrick Heaston, Aliber Distinguished Professor of Accounting, were recognized for their positive impact on Drake students.
During the 2012 commencement ceremony, Krypel and Heaston were awarded the highest honors Drake faculty can receive—the Madelyn Levitt Mentor and Teacher of the Year awards.
Madelyn Levitt, who served as a member of the Drake University Board of Trustees for 13 years before she passed away in 2007, committed herself to Drake through ongoing interest in faculty and staff achievement. She chaired two Drake fundraising efforts, raising approximately $320 million for the University. She was the first woman in America to chair a successful campaign of $100 million or more for a coeducational university. Levitt also contributed more than $5 million of her own funds to Drake. In her honor, the awards were created to reward recipients who demonstrate commitment to student success either through a mentorship or professorial role.
Linda Krypel
Linda Krypel's teaching career has been a memorable one. Krypel, PH'75, PH'94, joined the Drake College of Pharmacy and Health Sciences in 1988 as a laboratory instructor. She moved her way up from instructor to professor, becoming the first female in her department to attain a full professorship. She retired at end of the school year on a high note: she received the Madelyn Levitt Mentor of the Year Award.
"I'm humbled and appreciative to have received the mentor of the year award because I know the other people who were nominated," Krypel says. "Mentoring is natural for me. It's just a part of who I am."
Krypel brought her first-hand experience from practicing pharmacy in the Des Moines community to the classroom and her mentees. And while she values both occupations, teaching holds a special place in her heart.
"As a pharmacist I enjoyed talking with patients and teaching them how to properly take their medications," Krypel says. "But teaching is possibly more rewarding because I can impact even more patients through my students."
During her 24 years of teaching, Krypel has advised more than 800 students and taught 14 different courses within the College of Pharmacy and Health Sciences. Her favorite course to teach was Non-Prescription Medicines; Krypel revamped the curriculum and received national recognition for her outstanding work. The American Pharmaceutical Association named her a fellow in 2007 for her outstanding work on the curriculum.
In every course, Krypel challenged her students to fully understand the material.
"I wanted my students to discover how to learn in my courses, not just memorize," Krypel says.
Coaching students in the American Pharmacists Association's Patient Counseling Competition is one of Krypel's most memorable experiences at Drake. Under her direction, Drake students placed among the top 10 teams nationally eight times. Krypel describes the competition as "a challenge to students because they learn how to connect with their patients and use their knowledge at the same time."
Her dedication to students did not go unnoticed. One of Krypel's nominators said, "There's not enough gratitude to express the mentoring that this professor has given to me. Drake University has been lucky to have the gift of Linda Krypel among its ranks, and I consider myself incredibly lucky to know her as well."
Now that her teaching career is complete, she looks forward to traveling, renewing her love for bike riding, gardening, and living life. In the fall she plans to travel to Italy.
Patrick Heaston
Patrick Heaston, Aliber Distinguished Professor of Accounting, has served many roles during his 29 years at Drake. Beyond teaching undergraduate- and graduate-level accounting courses, Heaston has been associate dean of the College of Business and Public Administration (CBPA), interim dean, and director of the School of Accounting.
Like Krypel, Heaston was a practitioner before he became an educator. After practicing accounting for a few years, Heaston attended the University of Nebraska-Lincoln to obtain his doctorate degree. Heaston's father was a professor of accounting at Creighton University, and his influence led Heaston to pursue teaching.
"I always challenge students to question why we are doing what we are doing in class and to become more reflective," Heaston says. "In class, it's business from the first minute. I walk into the classroom and know exactly what I want to do. My favorite moments are the days when I walk out of the classroom and feel like I nailed it."
A student nominator agreed that Heaston's teaching style is rigorous, "Professor Heaston is a very demanding instructor and he establishes a strenuous learning environment. However, those that embrace his techniques gain knowledge and skills that will aid them throughout the rest of their careers."
Heaston has been honored with several awards for teaching, including two Teacher of the Year awards and two Graduate Teacher of the Year awards from the CBPA.
The Madelyn Levitt Teacher of the Year award is the cherry on top and is meaningful to Heaston on both a professional and personal level.
"First, it's validation of what I've devoted my life to," he says. "And on a personal level, it's meaningful because my father received the same award at Creighton."
Heaston looks forward to continue teaching into his third decade with the University.
Visit https://wwww.drake.edu/academics/honors/ to learn more about the Madelyn Levitt Mentor and Teacher of the Year awards.