This summer, Bulldogs can enjoy America's pastime together as Drake Me Out to the Ball Game launches in cities across the country. From Phoenix to Washington, D.C., alumni, family, and friends can purchase tickets to cheer on their local baseball teams with fellow area Bulldogs. Parties will be held before each game.
The idea originated with the programming committee of the National Alumni Board. Cognizant of the difficulty in planning events that are "one size fits all" for alumni of different ages, demographics, and interests, the committee brainstormed programs that would appeal to a wide range of alumni in many different cities.
"We want to target alums at different points in their lives," says Marisa Gift, AS'02, a member of the programming committee and one of the two organizers of the program.
And then they thought, "What's more universal than enjoying a baseball game?"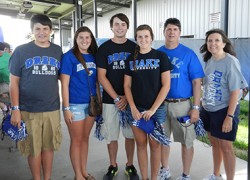 Gift thinks alumni in her hometown of Omaha agree, saying that based on attendance, it seems to have struck a chord. Nearly 50 alumni, family, and friends headed to Werner Park to watch the Storm Chasers take on the Memphis Redbirds on June 22—the first "Drake Me Out to the Ball Game of the summer. Young alumni and families alike came out to cheer on their team, but most exciting for Gift was "meeting alums from the area who I haven't crossed paths with before."
With alumni volunteers spearheading efforts in seven cities, games are scheduled from late June through early September. RSVP to a ballgame in a city near you:
Denver: July 14
Des Moines: July 19
St. Louis: Aug. 17
Tampa Bay: Aug. 21
Washington, D.C.: Sept. 5