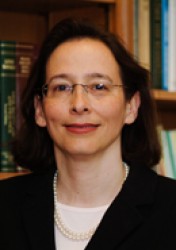 Pamela Karlan
Pamela Karlan, professor of public interest law at Stanford Law School, touched on the hot topic of judicial restraint during a Feb. 16 lecture on campus. The Drake University Constitutional Law Center hosted Karlan, the final speaker in the Constitutional Law Center Distinguished Lecture Series for the 2011″"12 academic year.
"The Distinguished Lecture Series enables us to bring the nation and world's leading constitutional law experts to Drake to share their views and exchange ideas with faculty, students and the community," says Mark Kende, director of the Constitutional Law Center. "This kind of dialogue is vital to the function of any academic environment and to this Center."
During her lecture, Karlan discussed the transformation of judicial restraint in the United States, saying that the Supreme Court of recent years is one of the most activist courts in U.S. history. She noted that the court has struck down more than 70 federal laws since the 1990s. She also briefly addressed the current controversy over judicial restraint in Iowa, which stemmed from the Iowa Supreme Court's ruling on same-sex marriage in 2009.
"I have heard many compliments about her talk because she has the ability to present complicated and important ideas in easy to understand language," says Kende. "She is probably one of the best speakers we have ever had here."
Karlan is the co-director of the Supreme Court Litigation Clinic at Stanford Law School and is well known nationwide for her work in constitutional law and litigation. One of the nation's leading experts on voting and the political process, she has served as a commissioner on the California Fair Political Practices Commission and as assistant counsel and cooperating attorney for the NAACP Legal Defense Fund. Karlan is the co-author of three leading casebooks on constitutional law, constitutional litigation and the law of democracy, as well as more than 60 scholarly articles. In August 2010, she was among President Obama's short list for nominees to the Supreme Court.
The Drake Constitutional Law Center is one of only four constitutional law programs established by the U.S. Congress and is funded by the federal government. The Center's mission is to foster study of the U.S. Constitution, its roots, formation, principles and development. The Center holds a variety of events throughout the year and will hold the Constitutional Law Symposium "Constitutionalism and the Poor" on April 14.