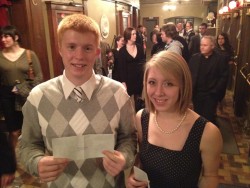 Drake students Zachery Schrom and Jaclyn Ingmand
Two Drake University School of Journalism and Mass Communication students were honored with ADDY Awards from the American Advertising Federation of Des Moines on Feb. 11. Drake students also received scholarships at the awards ceremony held at Hoyt Sherman Place.
Judges from around the country were brought into Des Moines to judge nearly 300 creative pieces in early January. Entries were judged on creativity, originality and creative strategy. In total, 25 Gold ADDY Awards and 44 Silver ADDY Awards were presented at the show. Those that won Gold ADDYs will have their entries forwarded to the district level competition.
Kathleen Moore, a senior majoring in graphic design and advertising (creative track), received a Gold ADDY for her "Branching out Florist" logo design. Moore created the ad as part of her creative advertising class.
"The award was a surprise, but a good reminder of the hard work I've put into my degree over the past four years," Moore said.
Monica Worsley, a sophomore international relations and magazines journalism major, received a Silver ADDY for her "All the campus in a flower" poster. She created the image "" which she modified from a picture of a petunia covered in water droplets on campus "" as part of her Introduction to Visual Communication course.
Zachery Schrom, a sophomore advertising (creative track) major, received the Wesley Day Scholarship and Jaclyn Ingmand, a junior advertising (creative track) major, received the Terry Stoffer Scholarship. A Drake alum was also honored at the event: Joel Brewer, JO'97, was chosen as 2012 Ad Pro of the Year.