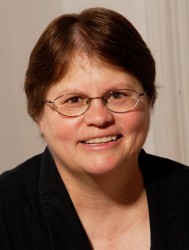 Tracy Baim, JO'84
On March 8, the Drake School of Journalism and Mass Communication will host Tracy Baim, JO'84, as part of its "Community in Diversity" visiting professional series. Baim will speak on "LGBT Media: The Evolution of a Revolution" at 7 p.m. in the Cowles Library Reading Room. The event is free and open to the public.
"We've hosted guest speakers, panel discussions, workshops, multimedia exhibits and community conversations on topics ranging from immigration issues to the different life experiences of people growing up black or white in the American South," says Kathleen Richardson, director of SJMC. "We feel it is our responsibility as communicators and storytellers to encourage all the members of our community to share their stories."
Baim is the founder and publisher of Windy City Media Group, Chicago's largest gay-oriented multimedia organization. She is also a political activist and movie producer, and is the author of Obama and the Gays: A Political Marriage. During her lecture, Baim will discuss niche media and her experience as a gay professional: finding your personal and professional passions, and finding a career in which you can make a difference and be true to yourself. She will also visit journalism classes during her return to campus.