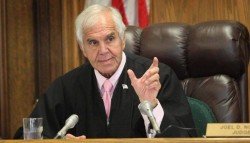 Judge Joel Novak, Judge in Residence at Drake Law School
In September, Judge Joel Novak accepted active judge senior status after 32 years on the bench serving Polk County's Fifth Judicial District. Three months later, he moved into his new office in Drake Law School's Neal and Bea Smith Legal Clinic.
"I am thrilled to be here, and I truly feel blessed and fortunate to have this opportunity," said Novak, who now holds the newly created title of judge in residence at Drake Law School "The Drake Legal Clinic has become my second home, and the clinic staff members are my second family "" they have been incredibly accommodating and helpful to me. I went out and bought a Drake sweatshirt!"
As an active judge with senior status, Novak is semi-retired but works part-time and still hears cases. Because judges in the Fifth Judicial District are experiencing a profusion of caseloads, space is limited for a senior judge courtroom or court chambers.
With the need for additional space apparent, Novak met with Allan Vestal, dean of the Drake Law School; Jerry Foxhoven, executive director of the Drake Legal Clinic; and Chief Judge Arthur Gamble to discuss a solution that would prove beneficial to both Drake and the Iowa judiciary.
Now Novak holds chambers and hears cases in the courtroom of the Drake Legal Clinic as judge in residence. Novak will also provide his expertise to Drake students and faculty while serving Iowa courts as a productive senior judge.
"Judge Novak will be available to meet with Drake law students to discuss our judicial system and share his knowledge of court procedure and ethics," says Andrea Charlow, associate dean and professor of law at the Drake Law School. "He will regularly hold hearings and trials in the clinic courtroom, which will be open for observation to students as well as the University community and the public."
"The plan is to bring cases to the Drake Legal Clinic so that Drake students can observe real trials with real lawyers, clients, witnesses, juries and outcomes," Novak says. "The Clinic provides students with a hands-on experience. Training in legal thinking and critical analysis is very important, but Drake also provides students with access to practical court application, which is crucial."
A legal career defined by professionalism, mentorship

Novak, originally from Rock Island, IL, earned his bachelor's degree from the University of Iowa in 1962 and his law degree from the University of Iowa College of Law in 1965.
He then moved to Des Moines to practice law with Herrick, Langdon, Sandblom and Belin, serving as a trial lawyer from 1969 to 1975.
In 1979, Iowa Gov. Robert D. Ray appointed Novak to be a district court trial judge in the fifth Judicial District, a position he held until earlier this year.
Novak is the 2007 recipient of the Iowa Judges Association Award of Merit, an annual award recognizing mentorship and extraordinary contributions to the association.
"At Drake, my office has an open-door policy," Novak says. "If I can help students as a mentor, I'm happy to do that. I've been invited by a few professors to visit classes and deliver lectures. I want to make myself available to do whatever Drake faculty members and students need of me."