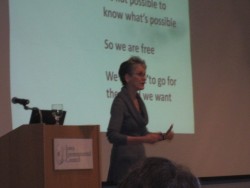 Frances Moore Lappe speaks at Agriculture for Life
The Iowa Environmental Council (IEC) held its annual conference focused on sustainable food on the Drake campus in conjunction with the Agricultural Law Center at Drake Law School.
Dubbed Agriculture for Life, the event took place in Drake University's Olmsted Center on November 3, 2011 and featured speaker Frances Moore Lappe, author of Diet for a Small Planet. Lappe spoke about the need to adjust our thinking to use a more environmentally conscious approach when dealing the issues challenging society.
Participants explored policy options for creating a more sustainable food system while hearing directly from those who grow, eat and enjoy local food. Discussion focused on the idea that food choices matter, especially in Iowa, where almost 90 percent of land is involved in agricultural production.
"It was a great crowd," said Matt Russell, state food policy project coordinator at the Agricultural Law Center. "These folks have been very engaged in projects and advocacy to improve Iowa's natural environment."
Russell is optimistic about the future of agriculture in the state and the attitudes of local citizens. "It's exciting that they are looking to agriculture as a solution. That's good news for Iowa farms and Iowa food," he said.
Attendees were enthusiastic about the diversity and richness that fresh local foods bring to Iowa's landscape and Iowans' tables.
Neil Hamilton, professor of law and director of the of the Center, said attendance at the event was larger than in years past and that the Law School was pleased to host the organization and participate in discussion on a very timely topic.
"We were excited to be involved with the IEC and to welcome them to campus," said Hamilton. "The Agricultural Law Center has focused for many years on the intersections between food, agriculture, law and society, so it was exciting to see these issues be the focus of the IECs conference."