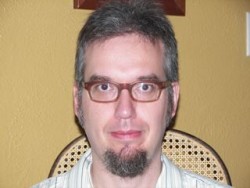 Jeff Karnicky
Jeff Karnicky, associate professor of English at Drake University, will give the final lecture in the Fall 2011 Humanities Center's Colloquium Series on at 3:30 p.m. Friday, December 2 in Medbury Honors Lounge, 2730 Forest Ave. The event is free and open to the public.
In his presentation, "Truth and Testimony in Brett Easton Ellis's Lunar Park," Karnicky will argue for the philosophical seriousness of Ellis's work, reading it through Jacques Derrida's reflections on testimony as well as Maurice Blanchot's text, The Instant of My Death, to show how fiction can be put in productive tension with fact.
In addition, Karnicky will look to Ellis's social media presence as another space where Ellis blurs the distinction between fact and fiction.
Karnicky is the author of Contemporary Fiction and the Ethics of Modern Culture, which presents an argument for the ethical relevance of contemporary fiction by writers such as David Foster Wallace and Richard Powers. He has also published articles on Don DeLillo and Irvine Welsh.
Currently, Karnicky's research focuses on human interactions with birds and its connection to the relationship between literary theory and ecological awareness.
Karnicky earned his bachelor's degree in English from Rutgers University and his PhD from Penn State.
For more information, contact Tim Knepper at tim.knepper@drake.edu, or 515-271-4502.