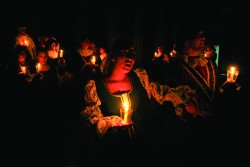 Catch the holiday spirit with a seasonal feast that brings traditions to
life. Enjoy a magical evening filled with song and celebration: Witness
the procession of the traditional boar's head, wassail bowl and flaming
figgy pudding while you enjoy a meal fit for royalty and are treated to
the talents of the Drake Chamber Choir.
Drake University's Madrigal Dinner is the perfect opportunity to share a festive experience featuring
great food, drink, music and laughter with friends and family. Ring in
the holiday season at one of two dinners, held at 7 p.m. Saturday,
December 3 and Sunday, December 4 in Olmsted Center, 2875 University
Ave. Tickets include a delectable six-course meal, wine and an evening
of lively entertainment.
The menu includes Cornish game hen, garlic mashed potatoes, spinach
salad, baked apple, scones, figgy pudding, wassail and wine. Vegetarian
meals are available.
Tickets are available for purchase from Nov. 7 to Nov. 22, and cost
$50 per person. Call the Drake Fine Arts Box Office at 515-271-3841 to
order your tickets.
Watch an audio slideshow of Madrigal Dinner highlights online.