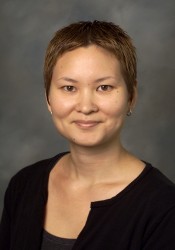 Jennifer Perrine
The Younger American Poets Reading Series, coordinated by Drake's Assistant Professor of English Jennifer Perrine, brings poets from across the United States to Des Moines to read and discuss their work.
"Poetry-lovers from throughout Central Iowa attend the readings," Perrine said. "The founders of the series saw a community need for contemporary poetry, and they were able to bring together local sponsors to make their dream a reality."
Established in January 2011 by local poets, the series is supported by the Metro Arts Alliance of Greater Des Moines.
"The series is grassroots in that way — it's entirely supported by contributions from local people and businesses who believe that poetry matters," Perrine said. "Bringing people together to celebrate a shared interest in poetry makes Des Moines a better place to live."
Vlad Frederick, a senior biology and English double major at Drake, has served as an intern with the series since last spring.
"Organizing the series has been an amazing and unique learning experience," said Frederick, who is from Truro, Iowa. "I have been exposed to the work of many great contemporary poets, and I have also had the opportunity to learn the ins-and-outs of working with a non-profit community organization — from giving presentations in high school classrooms to fundraising to hosting writers."
Frederick added that the series is filling an important niche in Des Moines' literary community.
"The readings promote the awareness of creative work and encourage members of the Des Moines community to pay more attention to poetry that is surfacing in the present day," he said.
Free and open to the public, the readings will take place throughout the fall at 7 p.m. at Beaverdale Books, 2629 Beaver Avenue, Suite 1.


Thursday, Oct. 6

* Stacey Waite, author of "The Lake Has No Saint" and "Love Poem to Androgyny," serves as assistant professor rhetoric and composition at the University of Nebraska. She earned her master's degree and doctorate from the University of Pittsburgh.

* Susanna Childress is the winner of the Brittingham Prize in Poetry for her book "Jagged with Love." She received her master's degree from the University of Texas at Austin and her doctorate from Florida State University.
Thursday, Nov. 3

* Rebecca Hazelton Stafford is visiting assistant professor of English at Beloit College. A nominee for Best Poets 2010, she earned her master's degree from Notre Dame and her doctorate at Florida State University.

* Hadara Bar-Nadav, winner of the Margie Book Prize, is the author of "A Glass of Milk to Kiss Goodnight" and "The Frame Called Ruin." She serves as assistant professor of English at the University of Missouri, Kansas City.
Thursday, Dec. 1

* Alexander Long, assistant professor of English at John Jay College in New York, is the author of poetry collections titled "Vigil" and "Still Life." He is a graduate of Western Michigan University and John Hopkins University.

* Robyn Shiff serves as associate professor of English and director of the undergraduate writing program at the University of Iowa. Her book "Revolver" was a finalist for the PEN/USA Poetry Award.
On Friday, Oct. 7, a benefit for the series will be held at 7 p.m. at Mars Café, 2318 University Ave. Local poets interested in sharing their work should register by Oct. 3 to reserve a spot in the lineup.
For more information about the benefit or the series, contact Perrine at 515-271-4161 or youngeramericanpoets@gmail.com.