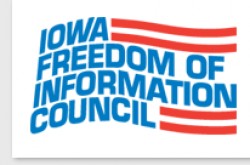 Media coverage of the courts, especially reporting on the contentious 2010 Iowa Supreme Court retention election, will be the focus of a discussion sponsored by the
Iowa Freedom of Information Council
on Friday, Oct. 7. The panel discussion follows a noon lunch.
The panel will be moderated by Herb Strentz, retired executive secretary of the Iowa Freedom of Information Council. Panelists for the discussion will be:

Former Iowa Supreme Court Justice Michael Streit, who was ousted in 2010 following the Court's 2009 decision that struck down the state's ban on same-sex marriage
Des Moines attorney William Brown
Rachel Paine Caufield, politics professor at Drake University and fellow at the American Judicature Society's Hunter Center for Judicial Selection
Iowa District Court Judge Jeffrey Neary.
The discussion is part of the Iowa FOI Council's annual meeting, which will be held in Levitt Hall of Old Main at Drake University, 2507 University Ave. in Des Moines. Advance registration is required and costs $15, which includes lunch beginning at noon. The event will include the awarding of the Council's Harrison "Skip" Weber Friend of the First Amendment award. This year's honoree is Sen. Pam Jochum of Dubuque, who is being recognized for her many years of service to Iowans through supporting legislation that ensures "government in the sunshine."
For more information or to register, contact Kathleen Richardson at (515) 271-2295 or kathleen.richardson@drake.edu.