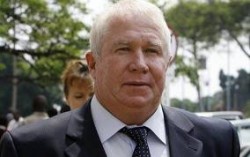 Roy Bennett
Roy Bennett, Zimbabwe's deputy minister of agriculture, will give a lecture titled "The Struggle for Democracy in Zimbabwe" at 7 p.m. on Wednesday, Oct. 5. The lecture, which is free and open to the public, will take place in Sheslow Auditorium, 2507 University Ave.
After winning a parliamentary seat as a member of the Movement for Democratic Change (MDC) party, Bennett became known for his passionate discourse with fellow politicians as he argued against a controversial land redistribution policy in the former British colony.
Bennett, a coffee farmer who entered into politics in 2000, currently serves as treasurer general of the MDC, the opposition party that won a general election in 2008 against Robert Mugabe and his Zimbabwe African National Union Patriotic Front (ZANU-PF) party.
The MDC is part of a national unity government dominated by Mugabe, although they do not support the policies of the Mugabe regime.
Bennett has spent recent years in exile because of his strong stance against Mugabe's government and policies.
He has served two prison sentences, one for an outburst in parliament and another for charges of terrorism — of which he was eventually acquitted.
Bennett advocates humanitarian reform in Zimbabwe and hopes that the MDC can regain control of the country through fair elections in the future.