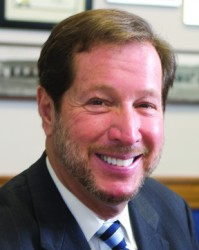 Don Fletcher, chair of the Drake University Board of Trustees, announced that President David Maxwell has agreed to a multi-year contract extension. The new contract, which takes effect at the conclusion of President Maxwell's current contract on May 30, 2012, also includes the possibility of renewal.
Maxwell was named Drake University President in 1999, after serving as director of the National Foreign Language Center in Washington DC from 1993 to 1999. He was president of Whitman College from 1989 to 1993. From 1971 to 1989, he was at Tufts University as a professor of Russian language and literature, and dean of undergraduate studies from 1981-89.
"President Maxwell's inspiring vision for Drake to be recognized nationally as a premier master's institution is matched only by his hands-on approach to building our future," Fletcher said. He also noted that President Maxwell brings the University a great deal of stature through his service on a number of boards, including the American Council on Education and the Association of American Colleges and Universities.
"In addition to the serious daily work of guiding the University, David has climbed Mt. Kilimanjaro with our football team and performed a guitar solo at commencement exercises. The Trustees look forward to not only continuing the strategic development of the University, but doing so with President Maxwell's leadership."
During President Maxwell's tenure, Drake University has experienced seven consecutive years of budget surpluses. This fiscal responsibility has enabled the University to consistently provide its faculty and staff with annual salary increases as well as forge ahead on numerous campus projects. Additionally, President Maxwell's leadership has led to the continued strengthening of the University's academic profile. Highlights from the past twelve years include:
The University received a record 6,100 applications for Fall 2011 undergraduate enrollment, roughly a 100 percent increase over a five-year period. The quality of this year's entering class set institutional records for average ACT (27) and high school GPA (3.7). Additionally, the University retained 88 percent of last year's freshman class, the second highest ever.
The development of a strategic vision for the University's future
A commitment to strategic planning and strategic decision-making that has enabled the University to keep the promise of its mission
A meaningful increase in the number of endowed faculty positions
$98 million in physical plant enhancements, including:

The construction of the $1.5 million Patty and Fred Turner Jazz Center in 2011
A $15 million modernization of Drake Stadium in 2006
Renovation and technology upgrades to over 30 classrooms
A $4 million renovation of classrooms and laboratories in Olin Hall
Complete renovation of every residence hall
"There's a feeling of momentum on campus," Fletcher said. "The extension of President Maxwell's contract as the distinctlyDrake campaign reaches $100 million — its financial midpoint — positions the University to become an even more exceptional learning environment."