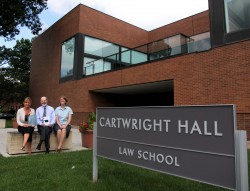 The Authors (L-R); Melissa Weresh, Professor of Law and Director of Legal Writing; John Edwards, Associate Dean for Information Resources and Technology and Professor of Law; Karen Wallace, Professor of Librarianship and Circulation/Reference Librarian
Drake Law Library faculty are used to answering research questions from perplexed students "" oftentimes, scholars and professionals alike are intimidated by the prospect of legal research and analysis. The newly published book Iowa Legal Research  aims to provide comprehensive insight into the state's laws while also addressing common concerns on conducting efficient research.
Co-authored by Drake Law Library and Legal Writing faculty, the book is designed to aid researchers in navigating myriad resources related to Iowa cases, statutes, constitutional principles and administrative regulations. Carolina Academic Press published the book as part of its state-specific Legal Research Series.
"The legal community is enriched by the publication of this book, which gives law students, practitioners and anyone seeking the sources of Iowa law a firm foundational tool for any research task that lies before them," says Iowa Supreme Court Chief Justice Mark Cady, LA'75, LW'78, who wrote the foreword for the guide. "The authors have left no practical stone unturned."
John Edwards, associate dean for information resources and technology and professor of law says the real-world work of the authors has been reflected in the book with the goal of making the book practical to students.
"In various spots in the book you will see references to our personal experiences in doing legal research in a law firm or law library," says Edwards. "We hope those examples make the message even more relevant to the students and others who read the book."
In addition to Edwards, the guide was authored by:
Sara Lowe, assistant professor of librarianship and reference librarian
Karen Wallace, professor of librarianship and circulation/reference librarian
Melissa Weresh, professor of law and director of legal writing
The authors agree that their experiences aiding researchers and conducting research themselves shaped the writing of the book.
"As a librarian, I am well aware of many of the frustrations researchers experience, and I tried to keep these in mind during the writing process," Wallace says. "For instance, the book explains some fundamental techniques and vocabulary that I have explained in reference interactions."
Weresh says that the book illustrates the research process in a manner benefitting all legal scholars, no matter their level of expertise.
"My teaching focuses on first-year law students, and I tried to approach the material from the perspective of a novice," Weresh says. "To that end, I strove to include ample context for Iowa sources, as well as material that would help a researcher locate sources effectively."
Suzanne Rowe, professor of law and director of legal research and writing at the University of Oregon School of Law, edited the book and assisted the Drake co-authors throughout the publication process.
"The four writers brought a variety of strengths," Rowe says. "The librarians have an amazing breadth of experience in the details of research, and the professors drew from their experiences teaching advanced and first-year research courses. Their research knowledge is vast, and their clear writing made complex processes accessible. This book enables researchers to find the resources they need, leaving more time for valuable analysis and problem solving."