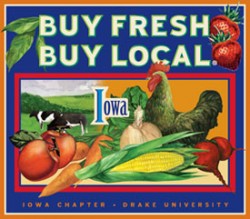 Fresher, juicier, sweeter, crisper – some might argue that in the summer, fresh fruits and vegetables just taste better. And knowing that the produce you're about to sink your teeth into was grown locally makes it all the more delicious.
For Des Moines residents looking for the ultimate in appetizing goods produced locally, Drake's Buy Fresh Buy Local Program (BFBL) publishes an annual directory of farms, grocers, cooperatives and farmers' markets where individuals can purchase fruits, vegetables, honey, wine, meat, eggs, poultry and dairy products.
This year's edition of the directory, which was published in July and distributed at the Des Moines Downtown Farmers Market, lists more than 100 local food producers.
"Buy Fresh Buy Local continues to bring farmers, business people and eaters together so that we can grow more of what we eat and eat more of what we grow right here in Des Moines," says Matt Russell, state food policy project coordinator for the Drake Law School Agricultural Law Center. Russell has overseen the BFBL campaign for five years.
"The campaign is a great way for Drake to help encourage people to be more mindful about what they eat and how the food affects their health, the health of the community and the health of the land," Russell says. "We're working very hard to diversify the food scene, and we're beginning to focus on access for all people."

Promoting health, local economies and community
The Greater Des Moines BFBL campaign, a project of Drake and Iowa Heartland Resource Conservation and Development, began in 2004.
The program aims to provide fresh, local food to consumers through a network of local farms, restaurants, food retailers and processors to increase the number of residents, farms and businesses serving locally grown foods in the nine-county area surrounding Des Moines.
"As with any successful effort, one goal is to continue to grow and innovate," says Neil Hamilton, director of the Agricultural Law Center at Drake Law School. "We've expanded the campaign nearly every year. This year, we've reached out to organizations working to bring greater food access to the hungry and homeless in the region."
BFBL included organizations in its directory such as the Des Moines Area Religious Council and Meals from the Market and encourages people to donate fresh produce and money to these organizations so they can purchase and deliver more locally grown fruits and vegetables.
The Greater Des Moines BFBL represents 81 farms, 22 businesses, and 48 farmers' markets from Polk, Boone, Dallas, Jasper, Madison, Marion, Marshall, Story, Warren and surrounding counties. Three co-sponsoring members are providing additional support to the campaign: Kitchen Collage, Campbell's Nutrition and the Downtown Farmers Market.
Dedicated not only to connecting Des Moines with farm-fresh foods, the campaign also provides members of the Drake community with a greater understanding of the practices and politics of agriculture.
"BFBL is a great way for Drake students to gain experience working in the evolving world of local food and agriculture," Russell says. "We've had more than 10 students work with the campaign and numerous volunteers. To engage more people this summer, we used social media to ask eaters to share recipes and cooking and preserving secrets."