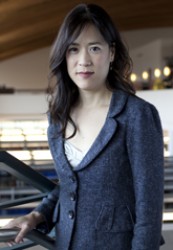 Ellen Yee, Professor of Law
While driving from Florida to Des Moines in 2005 on her way to a new position as an assistant professor of law at Drake Law School, Ellen Yee expressed excitement about coming to Drake and working with the faculty and students waiting her arrival.
"I chose Drake because it felt like it had a lot of positive energy," she said in that phone interview six years ago. "The faculty I've met are fantastic and the students I've met are engaged and interested in becoming the best lawyers possible."
Since then, Yee has become an integral part of the Law School and has worked diligently to ensure those students remain engaged. As a result, Yee was recently promoted to full professor and granted tenure.
"It has been an honor to be part of the Drake faculty, and I am looking forward to the years ahead," Yee says. "Drake is a special law school. My students are actively engaged in the study of law, and my faculty colleagues are engaged at the highest levels with the profession and their students."
Yee teaches courses on criminal law, trial advocacy, professional responsibility and psychiatry and the law. She is the faculty adviser for Drake's Asian Pacific American Law Students Association and Chinese Students Association, and she has worked as co-director of the law school's Summer in France Program since 2010.
Her work focusing on the tension between the Confrontation Clause of the U.S. Constitution and exclusion of hearsay evidence in criminal trials has appeared in the Florida State University Law Review, the Journal of Criminal Law & Criminology and the Encyclopedia of the Supreme Court of the United States.
Her research interests focus on the implications of recent developments in Confrontation Clause jurisprudence on domestic violence and gang cases "" an issue that is informed by her experiences as a criminal prosecutor.
Yee has delivered presentations to the American College of Osteopathic Neurologists and Psychiatrists, American Judicature Society, Iowa State Bar Association and Iowa Coalition Against Sexual Assault's Women of Color Advisory Network.
She is secretary of the Iowa Asian Alliance and The Homestead, and she also serves as a member of the board of the Des Moines Social Club.
Before joining Drake's faculty in 2005, Yee held the title of visiting assistant professor at the Florida State University College of Law and served as deputy district attorney for Marin County in San Rafael, CA.
She received her bachelor's degree from Yale University and her law degree from the University of Minnesota Law School.