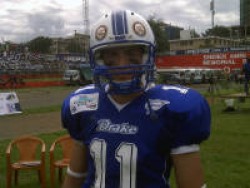 Kicker Billy Janssen before the kickoff.
ARUSHA, TANZANIA — The Drake Bulldogs defeated a team of collegiate all-stars from Mexico's CONADEIP Conference 17-7 Saturday in the Global Kilimanjaro Bowl, the first organized game of American collegiate football played on the continent of Africa. The game kicked off at 1:15 local time in Arusha (5:15 a.m. CDT) and concluded at 4 p.m. (8 a.m., CT).
A more detailed, first-hand game summary will come from Arusha later, but the following is a recap assembled from the sequence of Twitter updates provided by game organizer Global Football:
Trailing 7-3 after CONADEIP's first scoring drive early in the fourth quarter, Drake rallied for two touchdowns in the final period behind freshman third-string quarterback Nick Ens (Grand Rapids, Mich.), who was replacing injured starter Mike Piatkowski (Wheaton, Ill.) and backup Tyler Castro (Aurora, Ill.).
Ens led the Bulldogs on a touchdown drive immediately following the CONADEIP score to reclaim the lead, 10-7. He found wide receiver Joey Orlando (Park Ridge, Ill.) for a crucial first down, and then came back to him for an 11-yard touchdown pass.
CONADEIP responded by driving to the Drake 2-yard line, but the Bulldogs' defense stiffened and limited the threat to a potential game-tying field goal attempt, which was botched on a fumbled snap.
The All-Stars from Mexico reclaimed possession but with four minutes remaining fumbled at their own 19-yard line to set up Drake's final scoring opportunity. Senior Patrick Cashmore (Kansas City, Mo.) ran it in from 2 yards out for a 17-7 lead that would hold up as the final score.
CONADEIP's final possession ended when Drake's Matt Buckley (Oak Forest, Ill.) intercepted a pass attempt with 2:03 remaining, and the Bulldogs then took a knee to run out the clock.
A low-scoring game through three quarters turned exciting in the fourth period as the teams scored all three of the game's touchdowns in the final frame.
The CONADEIP All-Stars closed the third quarter with a 49-yard pass play to the Drake 11-yard line and then scored the game's first touchdown early in the fourth on a rushing play up the middle to take a 7-3 lead.
Prior to that point, the game's only points came via a 27-yard first-quarter field goal by Drake's Billy Janssen (Round Lake Beach, Ill.).
The first half saw each team turn the ball over by defensive takeaway (Drake recovered a fumble; CONADEIP intercepted two passes) and on downs (Drake was stopped on 4th-and-goal inside the 1; CONADEIP failed to execute a fake punt and botched a field-goal attempt).
CONADEIP also was whistled for a variety of penalties in the first half as neither team established a rhythm offensively.