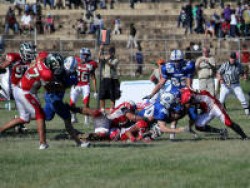 Patrick Cashmore scores the winning touchdown.
ARUSHA, TANZANIA — Saturday, May 21, 2011 — American football crossed a new international border on Saturday when the Drake University Bulldogs and all-stars from Mexico met on the gridiron painted for the first time on African soil.



Thanks to a second-half comeback, Drake beat the CONADEIPA All-Stars 17-7 in the Global Kilimanjaro Bowl, presented by the Tanzania National Parks Association, in front of 11,781 curious but enthusiastic Tanzanian spectators at the Sheik Amri Abedi Memorial Stadium here.
A photo gallery by Chris Donahue showcases the game and other activities related to the Global Kilimanjaro Bowl, including youth football clinics conducted by the Bulldogs and their Mexican opponents.
The players from both teams, 110 in total, will continue to work together May 22-24 to build an addition to an orphanage and complete other community services projects. On May 25 both teams will embark on a climb to the summit of Mount Kilimanjaro, the highest point in Africa at 19,341 feet. Several Drake players and University President David Maxwell are blogging about their experiences at www.drake.edu/kilimanjaro. The teams return on June 1.
Observed by the American Ambassador to Tanzania Alfonso Lenhardt, the nation's Deputy Minister of Industry and Trade Lazaro Nyalandu and a procession of dignitaries, the Global Kilimanjaro Bowl featured Masai tribesmen entertaining the crowd where cheerleaders would have danced in an American stadium. The game also featured a halftime show of touch football by groups of local youngsters as 500 Arusha schoolchildren took part in a display organized by Tanzania Irie, which provides free sports activities to underprivileged youth.


"Realization of a dream"
"This game was the realization of a dream of many people and we are humbled to have not only brought a football game to Africa, but also to have created friendships that will last a lifetime," said event producer and Global Football President Patrick Steenberge.



"In sport there has to be one team that loses, but today every single person in this stadium was a winner, I have no doubt about that."
"I'm so proud of you guys, each and every one of you, on so many levels," an emotional head coach Chris Creighton told the Bulldogs afterwards. "This is so much bigger than a football game and it was phenomenal. Do not let this moment and what we just did slip away from you."



Freshman quarterback Nick Ens took his first snaps under center for the Bulldogs when thrust into the contest, in which Drake trailed 7-3 going in the fourth quarter. Called on after the Bulldogs lost starter Mike Piatkowski and his understudy, Tyler Castro, to injury, Ens gave Drake a 10-7 lead with an 8-yard touchdown pass to wide receiver Joey Orlando in the third quarter. Ens, who completed 5 of 12 passes for 50 yards, also hooked up with Orlando for a pivotal 18-yard gain on the drive.



The Bulldogs defense, which had been bruised by 124 yards and a touchdown by CONADEIP running back Jose Reyes, then held their Mexican opponent on three downs at the goal line to remain in the game.



"We knew all three quarterbacks were going to play, so I was excited when we started and Mike and Tyler were doing well," said Ens, red-shirted in 2010. "I didn't expect to play that much, really the whole of the second half, but I enjoyed it.



"I think the drive where we scored was big. We had great protection up front, and the running game had allowed us to pass, so it was a great team effort."



On the Mexicans' possession after Ens' touchdown pass, Reyes charged 37 yards down the left sideline and was tripped up on 2-yard-line. But after the Bulldogs stopped them on three attempts, a muffed snap denied CONADEIP a chance to tie the game.



"That stance really helped keep the momentum going after we had just scored," said linebacker Tyler Moorehead, who led the team with six tackles.
Another linebacker, Patrick Cashmore, gave the Bulldogs their final points after Drake recovered a fumble on the Mexicans' 17. Cashmore lugged the ball in from 7 yards out for a 17-7 lead after the extra point.



Matt Buckley intercepted on the CONADEIP first play from scrimmage following the kickoff, allowing the Bulldogs to kill the clock.
Janssen field goal makes history
The Bulldogs opened with a steady drive that started at their own 20, aided by a scattering of unsportsmanlike conduct penalties. Carlos Garcia ended the drive with an interception of a Piatkowski pass to the corner of the end zone.



Both teams traded possessions before CONADEIP punted and was penalized again, giving Drake the ball 13 yards from the end zone. Billy Janssen's 27-yard field goal resulted in the first points ever in a game of American college football on African soil.



A Drake takeaway on a field goal attempt frustrated what had been a promising Mexican drive in a defensive second quarter. Travis Merritt stripped the ball from quarterback Jose Ortiz's hands and Robby Unger recovered to preserve Drake's 3-0 lead at halftime..



In the third quarter, CONADEIP took advantage of an uncertain Drake offense. Their second quarterback, Dwein Garcia, fired a 49-yard pass to Ivan Piña to light up the game and delight the crowd. Three plays later to open the fourth quarter, Reyes went in from 5 yards out for a 7-3 lead.



Drake needed a spark, and it came when Ens found his poise and fired a pass over the middle to Orlando for an 18-yard gain. With confidence in his receiver, the young quarterback again went to Orlando, this time in the corner of the end zone from 11 yards out.



"The whole team felt like it was swinging in the wrong direction and we weren't getting things right and a play needed to be made," Orlando said. "We ran that same play earlier when we were down there in the first quarter and I didn't run it right, so I knew it was my chance when that play was called."



Ens was quick to praise his receiver. "Joey helps me out so much in practice," he said, "and he is a big target for me. He got open and made it easy for me."
About Global Football: Headed by President Patrick Steenberge, a former Notre Dame quarterback and high school All-American at Erie Cathedral Prep. During the past 14 years, Global Football has produced football games in 18 nations in North and Central American, Europe, Asia and Oceania. Working partners include NFL, Super Bowl Host Committees, American Football Coaches Association (AFCA), Notre Dame, Penn State, Pop Warner, USA Football, and numerous Division III colleges as well as National Football Federations worldwide. www.globalfootball.com.



About Drake University: Drake is a private, independent university in Des Moines, Iowa, with an enrollment of 3,300 full-time undergraduate students from 45 states and 50 countries. Drake's mission is to provide an exceptional learning environment that prepares students for meaningful personal lives, professional accomplishments, and responsible global citizenship. The Drake experience is distinguished by collaborative learning among students, faculty, and staff and by the integration of the liberal arts and sciences with professional preparation.



About the CONADEIP All-Stars: The team that will travel to Tanzania from Mexico will be an all-star roster of players selected from educational institutions within the CONADEIP Conference. The conference kicks off its inaugural football season in the fall of 2010, having restructured to provide a highly competitive schedule for the long-dominant private universities in Mexico. The eight schools within CONADEIP are Tecnológico de Monterrey Campus in Puebla, Santa Fe, Toluca, Monterrey, Estado de México and Ciudad de México and also Universidad de las Américas Puebla and Universidad Regiomontana.
About Global Kilimanjaro Bowl Presenting Sponsor TANAPA: The Tanzania National Parks Association carefully cares for and manages the Kilimanjaro National Park area, as well as the other 14 National Parks and 32 game reserves. The best known of these is The Serengeti, named in 2006 as the New Seventh Wonder of the World by USA Today. Also among these is the world acclaimed Ngorongoro Crater; Olduvai Gorge, the cradle of mankind; the Selous, the world's largest game reserve; and Ruaha, now the largest National Park in Africa.



About TAHA: The Tanzania Horticulture Association, which promotes and oversees the expansive flower and fruit production and export in Tanzania, is providing fruit for both teams during their stay in the country, as well as decorating the Arusha Stadium with flowers and providing flower necklaces for the arrival reception when players and coaches landed at JRO Airport.



About the Arusha Hotel: The hotel serves as host for the Drake Bulldogs, media and game officials, while the Kibo Palace Hotel is hosting the CONADEIP Mexico official party. Kilele Savane Ltd of Arusha is handling all local transport, safari coordination and the Kili climb operations.



About Iowa Resources for International Service (IRIS) and Stemm: The Kitaa Orphanage addition and other community service projects are coordinated through the efforts of IRIS and Stemm.
IRIS is a nonprofit, nonsectarian organization founded in 1993 and located in Ames, Iowa. Its mission is to promote international understanding, diversity and peace. Through several grant programs, IRIS brings students, journalists, businesspeople, educators and government leaders to Iowa from Africa, Central and Eastern Europe and Asia. Learn more about the service projects in Tanzania at www.iris-center.org/Volunteer_Projects.html



Stemm, based in Sioux City, Iowa, was created to develop a relational bridge between Siouxland and Tanzania by addressing the priorities of spiritual growth, medical care and educational opportunities. In building this relationship, the overwhelming AIDS orphan crisis was one that could not be ignored and today is also an integral part of the Stemm ministry. Since inception, Stemm groups have traveled to Tanzania in January and July each year. Visit www.Stemm.org



About Younger Optics: The company supplied polarized Rx sunwear, equipped with Drivewear lenses, that will be part of the players', coaches' and staff's essential defense against blinding glare and harmful UV rays. For more information about Younger Optics and its products, visit the company's website at www.youngeroptics.com