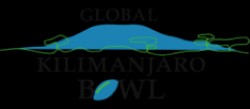 ARUSHA, TANZANIA – Friday, May 20, 2011 – They have been here less than 48 hours, but in that time, the players and coaches of Drake University and the CONADEIP All-Stars from Mexico have made a profound impact on the youth of Tanzania. On Saturday they will meet on the gridiron — the first ever to be etched onto the African continent for a game of college American football — to get down to the business of playing the sport they love. But for all concerned with the Global Kilimanjaro Bowl, the visit to East Africa and the opportunity to introduce the sport to a curious public has become their priority.
"You have made an impact in our nation and we are relieved that now we can say 'we have done it' when the game kicks off," said Colonel (retired) Iddi Kipingu, Chairman of the Tanzania National Sports Council told the players of both teams.
"We have many sports here in Tanzania, but this is completely new to us and we thank you for bringing American football to our country and to the young people whose lives you have touched with your coaching clinics.  Your visit will go down in history and you will be remembered here forever."
The unique game organized by Global Football takes place at the Sheik Amri Abedi Memorial Stadium (capacity 20,000) in Arusha, kickoff 1pm local time (5 am U.S. CT) and will be broadcast live across the African continent and beamed to countries around the world by ITV, the largest private TV network in Tanzania.
The spectacular Kili Bowl event also includes a three-day service project to benefit area orphanages organized by IRIS and Stemm, and features both teams also climbing the imposing 19,341 feet high Mount Kilimanjaro.
Game Notes:
Game: Global Kilimanjaro Bowl presented by TANAPA
Teams: Drake University vs. CONADEIP All-Stars
Venue: Sheik Amri Abeid Memorial Stadium (20,000)
City: Arusha, Tanzania
Kickoff: 1 p.m. (US CT +8 hours)
Date: Saturday, May 21
TV: ITV Tanzania, live
Broadcast: Mike Carlson play by play, Reggie Brooks, color analyst
Website: www.KiliBowl.com
Social media: www.Facebook.com/GlobalKiliBowl
Twitter: @GlobalSportsGuy
Producer: Patrick Steenberge, Global Football
The match up…
The Drake University Bulldogs compete in the Pioneer Football League, a subdivision of NCAA Division I football.  Fans watch the Bulldogs' home games at Drake Stadium, a 14,557-seat venue on Drake's campus.  The University's athletics program serves as a national leader in presenting a progressive model for intercollegiate sport in higher education.  In 2010 the Bulldogs posted a 8-3 record.
The CONADEIP All-Stars are a select group of student-athletes from eight Mexican institutions of higher learning: Universidad de las Américas Puebla; Universidad Regiomontana; and Tecnológico de Monterrey campuses in Puebla, Santa Fe, Toluca, Monterrey, Estado de México and Ciudad de México.  Founded in 1977, the National Commission Collegiate Athletics of Private Institutions (CONADEIP) – is composed of 128 private schools and universities settled throughout 16 states in Mexico.
CONADEIP added American football to its list of conference sports in 2010, with eight teams participating in the newly formed Premier League. Participation is expected to increase to 20 teams next year.  Prior to 2010, CONADEIP's eight inaugural football teams participated in the National Student Organization of American Football (ONEFA). Tec de Monterrey's campus in Monterrey dominated that league with five consecutive championships from 2004 to 2008.
Series…

This will be the first meeting between the two teams… the game will be Drake's first against Mexican opposition… CONADEIP is 1-1 against American opposition having beaten Team Stars & Stripes 24-12 in the inaugural Tazon de Estrellas in 2009 and lost 48-7 in 2010.
Presented by TANAPA…
TANAPA, the Tanzania National Parks Association, is the Presenting Sponsor of the Global Kilimanjaro Bowl.  TANAPA carefully cares for and manages the Kilimanjaro National Park area, as well as the other 14 National Parks and 32 game reserves.  The best known of these is The Serengeti, named in 2006 as the New Seventh Wonder of the World by USA Today.  Also among these is the world acclaimed Ngorongoro Crater; Olduvai Gorge, the cradle of mankind; the Selous, the world's largest game reserve; and Ruaha, now the largest National Park in Africa.
Quotable, Event Producer Patrick Steenberge, president of Global Football…
"We are doing something very special and historical, something that will impact the lives of the college student athletes from Mexico and the U.S. who are here in Tanzania to compete, to live out an adventure, and to serve. They are turn impacting the lives of thousands of youngsters in Tanzania, now and in the future. In addition, we will bring a dynamic team sport to Africa, known as American football.  So I say to you the most common word in Swahili, 'Karibu', or Welcome.  Please join us as we strive to always climb to the summit.  Tupande Kileleni."
The coaches…
Drake University Head Coach Chris Creighton, who ranks fourth among all active NCAA Division III football coaches in career winning percentage, was named the 25th head football coach at Drake University on Dec. 22, 2007. Creighton served as head coach at Wabash College in Crawfordsville, Ind., from 2001-07 where he constructed a 63-15 record with teams winning four North Coast Athletic Conference championships, while competing in three NCAA Division III playoffs.
CONADEIP All-Stars Head Coach Juan Carlos Maya is the head coach of Tec de Monterrey in Toluca and has been in charge of the Borregos program for five years, making the postseason playoffs the past three seasons.  Coach Maya oversees an extensive development program that features football players as young as six-years-old, through to the age when they graduate from the university.   He served as head coach of the CONADEIP All-Stars team that played against Team Stars & Stripes in the 2010 Tazon de Estrellas game.
Quotable, Chris Creighton, Drake University head football coach…

"Everyone involved in the Drake football program is ecstatic about the opportunity to participate in the Global Kilimanjaro Bowl.  For most of us, the Kili Bowl will be the first time we have played an American football game against a team from another country. For all of us, it is a first to play on the continent of Africa! Though our time in Tanzania is about a lot more than a football game, we are thrilled to get to play the game we love, with our friends in Mexico, in front of thousands of Tanzanians who may never have seen it before.
"We understand how fortunate we are to be part of this historic event and are forever grateful to everyone who has worked so hard to make it possible. We hope that everyone who witnesses this game will thoroughly enjoy it and retain the larger lessons forever! Go Bulldogs!"
Quotable, CONADEIP All-Stars Head Coach Juan Carlos Maya…
"We are very excited about all the good things that are happening around the Killi Bowl and it offers us a great opportunity to show the quality of our athletes in the sport, and to show the world that each of us only needs to put its grain of sand to make a better world. The players families are very excited about the Bowl and their sons going to Tanzania to represent their school and their country. To put into words how we feel being in this country right now is hard to do. These are wonderful people in Tanzania and our hearts will remain here forever."
Calling the game…
Veteran broadcaster Mike Carlson will provide the play-by-play in English, accompanied a Swahili translator and former Notre Dame running back Reggie Brooks. A native of Connecticut in the United States, Carlson has broadcast NFL coverage and Super Bowls to a UK audience on BBC, Channel 5, Channel 4 and Sky Sports and boasts a cult following in his adopted home country. He also commentates on Europsport's coverage of the Arena Football League.
Brooks played under former Irish head coach Lou Holtz from 1989-92 and earned second-team All-America status and finished fifth in the Heisman Trophy voting after a stellar senior campaign in 1992.  He remains quite visible throughout the Notre Dame record books as his career average of 7.6 yards per rush is still a school record, while his 1,372 yards rushing in '92 rank third-best in single-season school history.  He played four seasons in the National Football League, predominantly in Washington (1993-95), after the Redskins selected him in the second round of the '93 NFL Draft (45th overall pick).
A three-hour live broadcast of the Kili Bowl will be linked via satellite live across East and Central Africa as well as much of Europe, Asia and Australia.
Quotable Carlson…
"I am delighted to be helping to spread the appeal of American football across Africa. For many years I have explained the game to audiences new to the sport, so look forward to helping those watching for the first time to understand the play on the field.
"This is certain to be an intriguing and exciting game and I look forward to being part of a unique multi-lingual broadcast.   It will be the first time my words have ever been translated into Swahili and I'm hoping we will be able to entertain this diverse audience in both languages."
By the numbers…
7 — Mini footballs that were carried by each player from the United States and Mexico to be used at the event football clinics and in a halftime sow featuring the sport's newest fans.
7 — Officials who will control the game having traveled from USA, Mexico and Poland.
10 — Airports with paved runways in Tanzania, out of 124 total airports.
11 — Service projects that will benefit when the players form both teams volunteer their time to build, pain and refurbish on Sunday, Monday and Tuesday.
19 — Countries in which organizer Global Football has hosted football events.
120 — FIFAF world soccer ranking of Tanzania (USA is 22nd).
122 — Kilograms of avocado, watermelon and oranges supplied to players and youth attending the coaching clinics.
345 — Hotel nights booked in Arusha by lobal football during service projects.
468 — Hotel nights booked in Arusha by Global Football during week of game.
700 — Total number of staff handling transportation, safari, mountain climb and logistics under Frank Mella and Kilele Savane, Ltd.
8,397 — Miles from Drake University to Arusha.
1,000 — local youngsters who have caught and passed an American football for the first time this week through clinics held by Global Football and Tanzania Irie.
19,341 — Feet to climb to the summit of Mount Kilimanjaro.
500,000 — Dollars raised to fund the visit to Tanzania by the Drake University football players.
945,000 — Square miles Tanzania land mass (slightly larger than Texas).
42,000,000 — Approximate population of Tanzania.
Officials

Bill LeMonnier will officiate the Kilimanjaro Bowl.  A veteran of 14 college football bowl games, including seven BCS games, LeMonnier took charge of the BCS National Championship Game on January 10 in Glendale, AZ, as Auburn defeated Oregon 22-19.
Officials for the Global Kilimanjaro Bowl
Referee: Bill LeMonnier, USA
Umpire: Chris Fivek, USA
Head Linesman: Todd Desmond, USA
Line Judge: Mark Armstrong, USA
Side Judge: Jeff Holter, USA
Back Judge        Mario Matos          Mexico
Field Judge        Alex Zarganis        Poland
Quotable Bill LeMonnier…
"I am excited and honored to be adding Tanzania to the list of countries where I have officiated and more importantly am pleased to be a part of continued efforts by Global Football to spread the appeal of American football around the world. We have put together an experienced group of officials to take charge of this unique game and look forward to taking the field alongside the Drake University Bulldogs and CONADEIP All-Stars in Arusha. It will be a very special experience for everyone involved and of course a great spectacle for the local people of Tanzania who come along to watch."
Social media highlights of the Global Kilimanjaro Bowl…

Facebook:
Devotees of the social networking site can find daily updates, photos and links to videos through the event's official pages at www.Facebook.com/globalkilibowl.  On Saturday, May 21, all the key plays, scores and highlights will be posted following the historic game.
Twitter:
Follow Global Football President Patrick Steenberge @GlobalSportsGuy as he arrives in Tanzania and prepares to welcome the participants and then as the representatives of Drake University and CONADEIP enjoy the African experience.
YouTube
The official Global Football YouTube channel — www.YouTube.com/GlobalSportsGroup – will feature daily Flip Camera updates from all aspects of the event from the teams arriving in Tanzania to hitting the practice field, coaching local youngsters and giving back to the community.
Official website
Visit www.KiliBowl.com for all the latest news from the Global Kilimanjaro Bowl, and revisit some of the earlier visits to Tanzania by Global Football and Drake University during the planning stages of the event.
Drake's official website for the Kili Bowl is www.drake.edu/kilimanjaro
A word from our sponsors…
TAHA, the Tanzania Horticulture Association, which promotes and oversees the expansive flower and fruit production and export in Tanzania, is providing fruit for both teams during their stay in the country, as well as decorating the Arusha Stadium with flowers and providing flower necklaces for the arrival reception when players and coaches land at JRO Airport.
The Arusha Hotel serves as host for the Drake Bulldogs, media and game officials, while the Kibo Palace Hotel is hosting the CONADEIP Mexico official party.  Kilele Savane, Ltd of Arusha is handling all local transport; safari coordination and the Kili climb operations.
The Kitaa Orphanage service project will be coordinated through the efforts of Iowa Resources for International Service (IRIS) and Stemm as the student athletes from both teams, numbering 110 in total, will spend three days (May 22-24) working at local private orphanage to improve their facilities.
IRIS is a non-profit, non-religious organization founded in 1993 and located in Ames, Iowa. Its mission is pro promote international understanding, diversity and peace.  Through several grant programs, IRIS brings students, journalists, business people, educators and government leaders to Iowa from Africa, Central and Eastern Europe and Asia. For more information, visit http://www.iris-center.org/KiliBowl.html.
Stemm was specifically created to develop a relational bridge between Siouxland and Tanzania by addressing the priorities of spiritual growth, medical care and educational opportunities.   In building this relationship, the overwhelming AIDS orphan crisis was one that could not be ignored and today is also an integral part of the Stemm ministry.  Since inception, Stemm groups have traveled to Tanzania on a semi-annual basis — January and July each year.  Visit www.Stemm.org
Younger Optics will supply polarized Rx sunwear, equipped with Drivewear lenses that will be part of the players, coaches and staff's essential defense against blinding glare and harmful UV rays. For more information about Younger Optics and their other products, visit the company's website at www.youngeroptics.com.
To receive information via email contact Patrick@GlobalFootball.com or call Patrick Steenberge on (011-255) (0) 762 379-437. Full event information is available on the www.globalfootball.com website.
Media contact: Michael PrestonMP@MPrestonSports.com
About Global Football: Headed by President Patrick Steenberge, a former Notre Dame quarterback and high school All-American at Erie Cathedral Prep.  During the past 14 years, Global Football has produced football games in 18 nations in North and Central American, Europe, Asia and Oceania.  Working partners include NFL, Super Bowl Host Committees, American Football Coaches Association (AFCA), Notre Dame, Penn State, Pop Warner, USA Football, and numerous Division III colleges as well as National Football Federations worldwide.  www.globalfootball.com.
About Drake University: Drake is a private, independent university in Des Moines, Iowa, USA, with a total enrollment of more than 5,600 students. Drake's mission is to provide an exceptional learning environment that prepares students for meaningful personal lives, professional accomplishments, and responsible global citizenship. The Drake experience is distinguished by collaborative learning among students, faculty, and staff and by the integration of the liberal arts and sciences with professional preparation.
About the CONADEIP All-Stars: The team that will travel to Tanzania from Mexico will be an all-star roster of players selected from educational institutions within the CONADEIP Conference.  The conference kicks off its inaugural football season in the fall of 2010, having restructured to provide a highly competitive schedule for the long-dominant private universities in Mexico.  The eight schools within CONADEIP are Tecnológico de Monterrey Campus in Puebla, Santa Fe, Toluca, Monterrey, Estado de México and Ciudad de México and also Universidad de las Américas Puebla and Universidad Regiomontana.